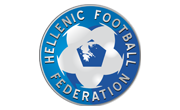 Greece's Biography
The Greece national football team represents Greece in association football and is controlled by the Hellenic Football Federation, the governing body for football in Greece. Greece's home ground is Karaiskakis Stadium in Piraeus and their head coach is Fernando Santos.

Greece spent most of their history in relative obscurity, having participated only twice in the final tournaments of the FIFA World Cup and the UEFA European Championship, in 1994 and 1980 respectively, until UEFA Euro 2004, when they became European champions in only their second participation in the tournament. The Greeks, dismissed as rank outsiders before the tournament with bookmakers giving odds of between 80–1 to 150–1 for them to win, defeated some of the favourites in the competition including defending champions France and hosts Portugal, who Greece beat in both the opening game of the tournament and again in the final.

Since that victory Greece have occupied a place in the top 30 of the FIFA World Rankings for all but 2 months, and reached a high of 8th from April to June 2008, as well as from September to October 2011.