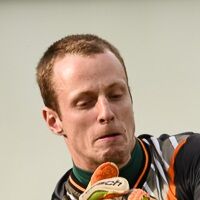 Paul Hunt
Goalkeeper
Follow
Height 6' 3"
Age 32 years, 6 months
Place of Birth Stevenage, England
Nationality Ireland
Stats based on games populated in our system. They can be viewed below
Paul 's Biography
Paul was part of the underage structure at Bohemians in 2009. He moved on to St Patrick's Athletic in 2010 and joined Longford Town for the 2011 season.

He made his first appearance for Longford in the second round of the EA Sports Cup against UCD on 28th March 2011, coming on as a substitute for Alvin Rouse. A few days later he made his first start in the league game against Athlone Town at Flancare Park and he had played 20 league games by the end of the season. Over the next two seasons Paul only made 3 league appearances for Longford who lost out on promotion via the play-offs twice in succession.

The 2014 season started the same way and Paul didn't play in Longford's first nine games. He then started against Cobh Ramblers in a 2-0 win and didn't look back, playing in a total of 19 league games, keeping twelve more clean sheets, as Longofrd Town won the First Division title. The following year Paul made 17 league appearances as De Town finished sixth in the Premier Division. In November 2015 Paul confirmed that he would be leaving the club after five seasons in the Midlands. A week later, he signed for Stephen Henderson's Cobh Ramblers.

Paul immediately established himself as first-choice 'keeper at St Colman's Park and he played every minute of the club's First Division campaign, including two play-off games in which the Rams lost out to Drogheda United. In December 2018, Paul signed on again for 2019 with Cobh.

In January 2021, Paul signed with Cork City ahead of the 2021 First Division season.


Career Detailed
Paul Hunt 2020 Record - League of Ireland First Division
| Comp | Date | Home | Score | Away | Venue | Actions |
| --- | --- | --- | --- | --- | --- | --- |
| First | Sept. 30, 2022 | Waterford | 3 - 1 | Cobh Ramblers | Regional Sports Centre | |
| First | Sept. 16, 2022 | Cobh Ramblers | 1 - 3 | Athlone Town | St. Colman's Park | |
| First | Sept. 9, 2022 | Cobh Ramblers | 1 - 1 | Galway United | St. Colman's Park | |
| First | Sept. 2, 2022 | Treaty United | 1 - 0 | Cobh Ramblers | Markets Field | |
| First | Aug. 19, 2022 | Cobh Ramblers | 1 - 2 | Cork City | St. Colman's Park | |
| First | Aug. 12, 2022 | Wexford | 2 - 2 | Cobh Ramblers | None | |
| First | Aug. 6, 2022 | Longford Town | 2 - 0 | Cobh Ramblers | Strokestown Road | |
| First | July 22, 2022 | Wexford | 0 - 1 | Cork City | None | |
| First | July 8, 2022 | Waterford | 1 - 3 | Wexford | Regional Sports Centre | |
| First | July 1, 2022 | Wexford | 3 - 1 | Athlone Town | None | |
| First | June 27, 2022 | Bray Wanderers | 2 - 2 | Wexford | Carlisle Grounds | |
| First | June 24, 2022 | Wexford | 2 - 1 | Longford Town | None | |
| First | June 17, 2022 | Cobh Ramblers | 0 - 3 | Wexford | St. Colman's Park | |
| First | June 10, 2022 | Wexford | 1 - 1 | Treaty United | None | |
| First | May 20, 2022 | Cork City | 1 - 1 | Wexford | None | |
| First | May 7, 2022 | Longford Town | 2 - 1 | Wexford | Strokestown Road | |
| First | May 2, 2022 | Wexford | 1 - 1 | Bray Wanderers | None | |
| First | April 29, 2022 | Athlone Town | 0 - 3 | Wexford | None | |
| First | April 22, 2022 | Wexford | 0 - 2 | Waterford | None | |
| First | April 18, 2022 | Treaty United | 2 - 1 | Wexford | None | |
| First | April 15, 2022 | Wexford | 4 - 2 | Cobh Ramblers | None | |
| First | April 9, 2022 | Galway United | 1 - 1 | Wexford | Eamonn Deacy Park | |
| First | April 1, 2022 | Wexford | 0 - 1 | Cork City | Ferrycarrig Park | |
| First | March 25, 2022 | Bray Wanderers | 0 - 0 | Wexford | Carlisle Grounds | |
| First | March 18, 2022 | Wexford | 0 - 3 | Longford Town | Ferrycarrig Park | |
| First | March 11, 2022 | Waterford | 2 - 1 | Wexford | Regional Sports Centre | |
| First | March 4, 2022 | Wexford | 2 - 1 | Athlone Town | Ferrycarrig Park | |
| First | Feb. 25, 2022 | Cobh Ramblers | 2 - 3 | Wexford | St. Colman's Park | |
| First | Feb. 18, 2022 | Wexford | 1 - 5 | Treaty United | Ferrycarrig Park | |