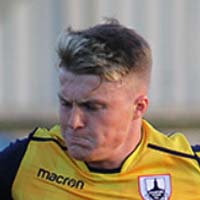 Daniel O'Reilly
Defender
Follow
Height
Age 27 years, 5 months
Place of Birth
Nationality Ireland
Stats based on games populated in our system. They can be viewed below
Daniel's Biography
Daniel is a centre back who played underage football with Cherry Orchard before signing for Fulham FC in November 2010 at just 15 years of age. He had a loan spell at non-league side Walton Casuals before leaving Craven Cottage to join Hereford United in August 2014. His stay with Hereford was a short one and on 24 November 2014 Daniel signed for Conference side Bishop's Stortford.

On 23 December 2014 Daniel returned home to sign for Alan Mathews at Bray Wanderers. He was a regular under Matthews and his successor Tarnogrodzki and played in the first 11 league games. However, the constant change of management saw Daniel make only 3 more appearances, although he was constantly on the bench, as Bray finished eighth in the Premier Division.

In December 2015, Daniel followed Dave Scully to O'Devaney Dunard but within weeks he had signed for Longford Town, in time for the start of the 2016 season. He made 8 league appearances for the club before leaving in July 2016. His absence from the Town dressing room was brief, however, and with former boss Alan Mathews now in charge he signed for Longford again ahead of their 2017 First Division campaign. In October 2017, Daniel re-signed with Longford for 2018.

In December 2018, Daniel signed with Ollie Horgan's Finn Harps side. In December 2020, Daniel signed for Drogheda United, moving from Shelbourne.