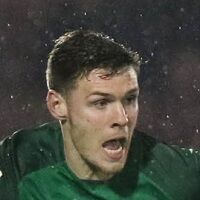 Garry Buckley
Defender
Follow
Height
Age 29 years, 5 months
Place of Birth Cork, Ireland
Nationality Ireland
Stats based on games populated in our system. They can be viewed below
Garry's Biography
Garry played underage football with Cork side Leeds FC before joining Cork City's U19 side for the 2011/2012 season. He was part of two double winning teams with the U19s and joined the senior side in their build up to the 2012 league season. Garry's first involvement with the senior team came during the club's 2011/12 Munster Senior Cup campaign and he made his senior debut against Athlone Town in the FAI Cup on 25 May 2012. He then scored on his league debut away to Derry City in September 2012 and made 3 league appearances as City finished sixth in the Premier Division.

In 2013, under manager Tommy Dunne, Garry established himself in City's first team, making 22 league appearances as the Rebels again finished sixth in the table. Under new manager John Caulfield, City took 2014 by storm and Garry again played a key role for the Rebels, scoring nine times in 29 league appearances as City were pipped to the league title by Dundalk on the final night of the season. In the following season, Garry made 27 league appearances for the Rebels that year, scoring twice in wins over Galway and Longford, as Cork finished runners-up to Dundalk once more. He also played in the 2015 FAI Cup Final in which City lost 1-0 to Dundalk after extratime.

In November 2015, Garry signed a new two-year deal with Cork and 2016 again saw City finish second to Dundalk in the league with Garry netting five times from 24 league appearances. Cork also met Dundalk, again, in the FAI Cup final, though this time Garry came away with a winners medal as City beat the Lilywhites 1-0 after extra-time at the Aviva. During the 2017 season Garry played 26 times and scored 6 times for the Rebels.

In November 2017, Garry signed a new two year deal with Cork City after they won the 2017 double of the Premier Division and FAI Cup.

In November 2019, Garry signed with Sligo Rovers. In December 2020, Garry Buckley re-signed for Sligo Rovers. In October 2021, Garry signed a new two year deal with Sligo Rovers.