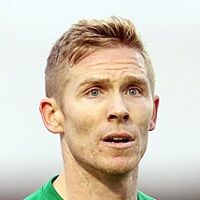 Conor Kenna
Defender
Height 6' 0"
Age 37 years, 11 months
Place of Birth Dublin
Nationality Ireland
Stats based on games populated in our system. They can be viewed below
Conor's Biography
Conor is a product of the Cherry Orchard under-age set up and also had a three year spell at Coventry City as a trainee before returning to Ireland to sign for Shelbourne in 2003, where he became an integral of the club's U21 squad.

In 2004 Conor signed for UCD where he quickly became first choice in the Student's defensive line. He went on to make 149 league appearances over the next five seasons and was made club captain for 2008 following the retirement of Tony McDonnell.

Following the club's relegation to the First Division at the end of 2008, and the departure of manager Pete Mahon, Conor moved to Drogheda United for the start of the 2009 season. He made 33 league appearances and scored 4 goals for Drogheda that year before moving on to rejoin Pete Mahon at St Patrick's Athletic at the start of 2010.

Conor was ever present in the St Pats defence in 2010, missing just 11 minutes of league action when he was replaced in the 80th minute of the 4-0 win against Bray Wanderers in April. But injury struck in 2011, limiting him to 15 league appearances.

Conor re-signed for the 2012 season and only missed four matches, playing twenty nine times as St Pats finished third in the league. In 2013, Conor, again, only missed four games as this time St Pats went one better and won the league with Kenna as captain of the side.

In October 2013, Conor joined Shamrock Rovers from St Patrick's Athletic. Conor was made the captain of the side and played in twenty-eight league matches for Shamrock Rovers as they secured European football for another year with a fourth place finish in the 2014 Premier Division.

Conor stayed with Rovers for the 2015 season and went on to make twenty-eight league appearances, scoring once in a 4-1 win over Limerick, as Shamrock Rovers finished third in the Premier Division. He also played in both of the club's Europa League matches against Odds as Rovers went out to the Norwegian side.

In December 2015, Conor moved to Bray Wanderers. He captained the Seagulls through their 2016 Premier Division campaign and made 31 league appearances, scoring once, in a 1-0 win over Finn Harps in July. He continued to play for the Seagulls until the end of 2018 when the club were relegated to the First Division.

In 2019 Conor signed for Neal Fenn at Longford Town.


Career Facts
League of Ireland Premier Division
League of Ireland First Division
Season
Round
Team
Starts
Goals
Pens
MP
Assists
Subs
Sub On
Sub Off
Yellow
Red
MinP
2019

First

First Division

Longford Town Longford
26
-
-
-
-
-
-
-
1
-
-
Friendly
Setanta Sports Cup
FAI Cup
Europa League
Leinster Senior Cup
League Cup
2018 Promotion/Relegation Play-off Series
Season
Round
Team
Starts
Goals
Pens
MP
Assists
Subs
Sub On
Sub Off
Yellow
Red
MinP
2019

PO Quarter Final

QF

Longford Town Longford
2
-
-
-
-
-
-
-
1
-
-