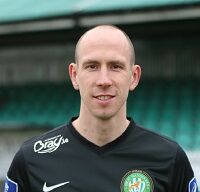 Alan Byrne
Defender
Height 6' 2"
Age 40 years, 4 months
Place of Birth Dublin
Nationality Republic of Ireland
Stats based on games populated in our system. They can be viewed below
Alan's Biography
Alan began his career at Bohemians in 2002 and he then had a successful time at Monaghan United in 2003. At the start of the 2004 season he signed for Eric Hannigan at Kildare County and he went on to make 111 league appearances there over the next four seasons.

In November 2007 Alan left Kildare to sign for Shelbourne where he made 17 league and cup appearances in the 2008 season. He spent just one year at Tolka Park and signed for his second spell at Monaghan United in January 2009.

Alan was voted Player of the Year at Monaghan for 2010 and, following the departure of manager Mick Cooke prior to the start of 2011, he remained at the club to play under new boss Roddy Collins. He made 24 league appearances to help the Mons to promotion at the end of 2011.

Alan played with the team until 18 June 2012 when Monaghan United withdrew from the League due to financial pressures. On 22 June he signed for Mick Cooke at Drogheda United and finished 2012 with 13 league appearances for Drogheda as they finished second behind Sligo Rovers. Alan played in 24 league games in 2013, scoring once, but Drogheda couldn't repeat there second place finish and ended the campaign in eighth place. He spent much of the season in a new role as a holding midfielder and played in three cup finals, but Drogheda lost in each of the Setanta, EA and FAI Cup deciders. Alan then followed manager Mick Cooke to Athlone Town who he signed for at the end of the 2013 season.

Alan was made captain of the Athlone and played 26 times in their 2014 league campaign as the Midlands side were relegated at the end of the season. In December 2014 Alan returned to Drogheda United under Johnny McDonnell and went on to make 29 league appearances for the club, scoring once in a 3-1 loss to St Pats, as Drogheda United were relegated on the last day of the 2015 season.

In November 2015, Alan signed for Mick Cooke at Bray Wanderers where he made 6 league appearances for the Seagulls before joining Waterford United in July 2016. Alan's first appearance for the Blues came on 15 July 2016 in a 2-1 defeat away to UCD. He made just 4 league appearances before leaving the RSC to sign for Portadown in the Irish league at the end of August 2016.

Alan scored twice in 19 league appearances for Portadown but left the club at the end of January 2017 to return to the League of Ireland where he signed for Owen Heary at Shelbourne.

In October 2017 Alan signed back with Shels for the 2018 season.