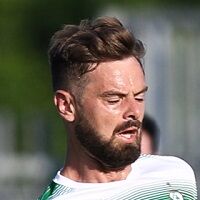 Greg Bolger
Midfield
Height 5' 11"
Age 34 years, 2 months
Place of Birth Wexford
Nationality Ireland
Stats based on games populated in our system. They can be viewed below
Greg's Biography
(Photo by: Ed Scannell)

Wexford born Greg started his career playing with New Ross Celtic before going on to play with Wexford Youths in the days before they had acquired league status. He also spent a year at Cherry Orchard before joining UCD in 2006.

Greg made his league debut with UCD in March 2007 as a substitute against Cork City and scored his first goal in 2008 against Derry City. He was also part of the Students side that won the First Division title in 2009 but it was in 2010 that Greg really came to prominence when he filled the boots of the influential Ronan Finn who had moved on to Sporting Fingal.

During the 2010 season he made 29 league appearances for UCD and scored seven goals. He was also chosen by Paul Doolin to represent the Irish U23 side that played against England and Estonia during the summer.

In January of 2011 he followed Finn across the city to sign for Sporting Fingal. However, one month later Fingal folded and within 24 hours Bolger had been snapped up by Ian Foster at Dundalk. Greg's Dundalk debut came in a 5-3 Setanta Cup win over Linfield in February and he made 24 league appearances throughout the season.

In January 2012 Greg confirmed a move to St Patrick's Athletic, signing for new boss Liam Buckley. He made 26 league appearances as Pats' title challenge faltered but in 2013 Greg took over the anchor role in Pats' midfield from the departed James Chambers and his influence was key to Pats winning the 2013 League title.

Greg stayed with St Pats for the 2014 season and made 24 league appearances as the Saints finished third that season. He also picked up an FAI Cup Winners medal as he was a part of the team that beat Derry City 2-0 in the final. He added a further 23 league appearances in 2015, scoring twice in the process, as the Saints finished fourth in the table.

In November 2015, Greg moved south to join Cork City and made his league bow for the rebels against Bohemians at Turner's Cross on 4 March 2016. He made 27 league appearances and scored one league goal, in a 3-0 home win over Shamrock Rovers. Greg also picked up his second FAI Cup winners medal when City beat Dundalk 1-0 in the final.

Greg spent two seasons at Turner's Cross and left in November 2017 to sign for Shamrock. He was a late substitute in Rovers' 2019 FAI Cup final win over Dundalk and was also part of the club's FAI Cup and League double in 2020 despite it being a season troubled by injury.

In December 2020, Greg announced that Shamrock Rovers wouldn't be renewing his contract and he quickly signed for Liam Buckley at Sligo Rovers.


Career Facts
League of Ireland Premier Division
League of Ireland First Division
Season
Round
Team
Starts
Goals
Pens
MP
Assists
Subs
Sub On
Sub Off
Yellow
Red
MinP
2009

First

First Division

UCD UCD
13
2
-
-
-
6
-
-
1
1
-
UEFA Champions League
Season
Round
Team
Starts
Goals
Pens
MP
Assists
Subs
Sub On
Sub Off
Yellow
Red
MinP
2014-2015

CL Q2

Q2

St. Patrick's Athletic PATS
2
-
-
-
-
-
-
-
1
-
-
Presidents Cup
Friendly
Setanta Sports Cup
FAI Cup
Europa League
Leinster Senior Cup
Munster Senior Cup
Season
Round
Team
Starts
Goals
Pens
MP
Assists
Subs
Sub On
Sub Off
Yellow
Red
MinP
2017

MS Cup Final

Final

Cork City Cork
1
-
-
-
-
-
-
-
-
-
-
2017

MS Cup SF

SF

Cork City Cork
1
-
-
-
-
-
-
-
-
-
-
2017

MS Cup QF

QF

Cork City Cork
1
-
-
-
-
-
-
1
-
-
-
2016

MS Cup QF

QF

Cork City Cork
1
-
-
-
-
-
-
-
-
-
-
League Cup
Atlantic Cup
Season
Round
Team
Starts
Goals
Pens
MP
Assists
Subs
Sub On
Sub Off
Yellow
Red
MinP
2018

AC

Grp

Shamrock Rovers Shamrock R
2
-
-
-
-
1
-
-
-
-
-
Europa Conference League
Season
Round
Team
Starts
Goals
Pens
MP
Assists
Subs
Sub On
Sub Off
Yellow
Red
MinP
2022-2023

ECL QR3

QR3

Sligo Rovers Sligo
1
-
-
-
-
1
-
-
-
-
-
2022-2023

ECL QR2

QR2

Sligo Rovers Sligo
-
-
-
-
-
1
-
-
-
-
-
2021-2022

ECL 1QR

1QR

Sligo Rovers Sligo
1
-
-
-
-
-
-
-
2
1
-