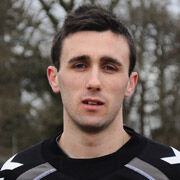 Daniel Lafferty
Defender
Height 6' 1"
Age 33 years, 8 months
Place of Birth Derry City
Nationality Northern Ireland
Stats based on games populated in our system. They can be viewed below
Daniel's Biography
Danny came through the youth system at Derry club, Oxford United Stars, before signing for Scottish giants Celtic in 2006. He spent five years at Parkhead before returning to Ireland and signing for Stephen Kenny at Derry City in July 2010 on an eighteen month contract.

Danny made his debut for the Candystripes in a 2-1 win over Shelbourne at Tolka Park on 16 July 2010 and made 12 league appearances for Derry as they went on to win the First Division title. In 2011 Danny established himself as one of the top full backs in the league, making 34 league appearances and scoring an impressive seven league goals along the way.

On 30 January 2012, Danny signed for English Championship side Burnley. He went on to make forty appearances for the club in four seasons at the club as well as taking in a loan with Rotherham United. He was then on loan at Oldham Athletic when he was included in Northern Ireland's preliminary squad of 28 for the 2016 European Championship. However, he was cut from the final squad.

In August 2019, Daniel signed with Shamrock Rovers.

In December 2020, Danny signed for Derry City where he played for two seasons before signing for Sligo Rovers in November 2022.

Career Facts
League of Ireland Premier Division
League of Ireland First Division
Season
Round
Team
Starts
Goals
Pens
MP
Assists
Subs
Sub On
Sub Off
Yellow
Red
MinP
2010

First

First Division

Derry City Derry
8
-
-
-
-
6
-
-
2
-
-
Friendly
FAI Cup
Europa League
Season
Round
Team
Starts
Goals
Pens
MP
Assists
Subs
Sub On
Sub Off
Yellow
Red
MinP
2020-2021

EL QR1

QR1

Shamrock Rovers Shamrock R
-
-
-
-
-
1
1
-
-
-
-
Dublin Super Cup
Season
Round
Team
Starts
Goals
Pens
MP
Assists
Subs
Sub On
Sub Off
Yellow
Red
MinP
2011

Super Cup

Super Cup

Airtricity League XI AL11
1
-
-
-
-
1
-
-
-
-
-
League Cup
Season
Round
Team
Starts
Goals
Pens
MP
Assists
Subs
Sub On
Sub Off
Yellow
Red
MinP
2011

EA Cup SF

SF

Derry City Derry
1
1
-
-
-
-
-
-
-
1
-
2011

EA Cup R2

R2

Derry City Derry
-
-
-
-
-
1
-
-
-
-
-
2011

EA Cup R1

R1

Derry City Derry
1
-
-
-
-
-
-
-
1
-
-
FIFA World Cup European Qualifiers
Season
Round
Team
Starts
Goals
Pens
MP
Assists
Subs
Sub On
Sub Off
Yellow
Red
MinP
2016-2017

WCQ Grp C

Grp C

Northern Ireland N Ireland
-
-
-
-
-
5
-
1
-
-
-
Europa Conference League
Season
Round
Team
Starts
Goals
Pens
MP
Assists
Subs
Sub On
Sub Off
Yellow
Red
MinP
2022-2023

ECL QR1

QR1

Derry City Derry
1
-
-
-
-
1
-
-
-
-
-