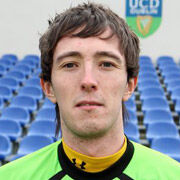 Mark McGinley
Goalkeeper
Height 6' 3"
Age 32 years, 4 months
Place of Birth Donegal
Nationality Ireland
Stats based on games populated in our system. They can be viewed below
Mark 's Biography
Mark previously played with Fanad United, keeping goal in their 2008 FAI Cup run which took them to the third round where they lost 3-0 to Kildare County. He also played with Derry club, Institute, before moving to UCD. He first made the senior squad at UCD in 2010 when he sat on the bench eight times in league and cup games. But when Billy Brennan left at the end of the season he moved up the pecking order at Belfield.

Mark made his senior debut in a 2-1 defeat to Athlone Town in the Leinster Senior Cup on 7th March 2011 and took his league bow in the 5-4 win over Drogheda United on 3rd September. He made a total of 10 league and cup appearances throughout the 2011 season. Mark played in 19 league games in 2012 and appeared a further 18 times in 2013 but in 2014 he was stuck on the bench providing cover for first choice keeper Conor O'Donnell and on 29 July he signed for First Division Finn Harps.

He didn't make an appearance for Finn Harps and left the club at the end of the 2014 season.

Mark returned to Finn Harps in May of 2019. In December 2020, Mark re-signed with Harps having played every game of the 2020 campaign.


Career Facts
League of Ireland Premier Division
Season
Round
Team
Starts
Goals
Pens
MP
Assists
Subs
Sub On
Sub Off
Yellow
Red
MinP
2022

Prem

Premier Division

Finn Harps Harps
19
-
-
-
-
3
-
-
1
1
-
2021

Prem

Premier Division

Finn Harps Harps
31
-
-
-
-
3
1
1
1
1
-
2020

Prem

Premier Division

Finn Harps Harps
18
-
-
-
-
-
-
-
-
-
-
2019

Prem

Premier Division

Finn Harps Harps
15
-
-
-
-
5
-
-
-
-
-
2014

Prem

Premier Division

UCD UCD
-
-
-
-
-
12
-
-
-
-
-
2013

Prem

Premier Division

UCD UCD
18
-
-
-
-
12
-
1
-
-
-
2012

Prem

Premier Division

UCD UCD
20
-
-
-
-
9
-
-
-
-
-
2011

Prem

Premier Division

UCD UCD
7
-
-
-
-
26
-
-
-
-
-
2010

Prem

Premier Division

UCD UCD
-
-
-
-
-
5
-
-
-
-
-
Friendly
Season
Round
Team
Starts
Goals
Pens
MP
Assists
Subs
Sub On
Sub Off
Yellow
Red
MinP
2021

FR

Domestic

Finn Harps Harps
1
-
-
-
-
-
-
-
-
-
-
2014

FR

Domestic

UCD UCD
-
-
-
-
-
1
1
-
-
-
-
2013

FR

Domestic

UCD UCD
4
-
-
-
-
1
-
1
-
-
-
2012

FR

Domestic

UCD UCD
1
-
-
-
-
1
-
-
-
-
-
2011

FR

Domestic

UCD UCD
1
-
-
-
-
-
-
-
-
-
-
Setanta Sports Cup
Season
Round
Team
Starts
Goals
Pens
MP
Assists
Subs
Sub On
Sub Off
Yellow
Red
MinP
2011

SETA R1

R1

UCD UCD
-
-
-
-
-
2
-
-
-
-
-
FAI Cup
Season
Round
Team
Starts
Goals
Pens
MP
Assists
Subs
Sub On
Sub Off
Yellow
Red
MinP
2022

FAI CUP R1

R1

Finn Harps Harps
-
-
-
-
-
1
-
-
-
-
-
2021

FAI Cup QF

QF

Finn Harps Harps
1
-
-
-
-
-
-
-
-
-
-
2021

FAI Cup R2

R2

Finn Harps Harps
-
-
-
-
-
1
-
-
-
-
-
2021

FAI Cup R1

R1

Finn Harps Harps
-
-
-
-
-
1
-
-
-
-
-
2020

FAI Cup QF

QF

Finn Harps Harps
1
-
-
-
-
-
-
-
1
-
-
2020

FAI Cup R2

R2

Finn Harps Harps
1
-
-
-
-
-
-
-
-
-
-
2020

FAI Cup R1

R1

Finn Harps Harps
1
-
-
-
-
-
-
-
-
-
-
2019

FAI R1

R1

Finn Harps Harps
1
-
-
-
-
-
-
-
-
-
-
2013

FAI Cup R2

R2

UCD UCD
-
-
-
-
-
1
-
-
-
-
-
2012

FAI Cup R3

R3

UCD UCD
1
-
-
-
-
-
-
-
-
-
-
2012

FAI Cup R2

R2

UCD UCD
1
-
-
-
-
-
-
-
-
-
-
2011

FAI Cup R4

R4

UCD UCD
-
-
-
-
-
2
-
-
-
-
-
2011

FAI Cup R3

R3

UCD UCD
-
-
-
-
-
1
-
-
-
-
-
2010

FAI Cup R3

R3

UCD UCD
-
-
-
-
-
1
-
-
-
-
-
2008

FAI Cup R3

R3

Fanad United FAN
1
-
-
-
-
-
-
-
-
-
-
Leinster Senior Cup
Season
Round
Team
Starts
Goals
Pens
MP
Assists
Subs
Sub On
Sub Off
Yellow
Red
MinP
2014

LS Cup QF

QF

UCD UCD
1
-
-
-
-
-
-
-
-
-
-
2014

LS Cup R4

R4

UCD UCD
1
-
-
-
-
-
-
-
-
-
-
2013

LS Cup QF

QF

UCD UCD
1
-
-
-
-
-
-
-
-
-
-
2012

LS Cup SF

SF

UCD UCD
1
-
-
-
-
-
-
-
-
-
-
2012

LS Cup R4

R4

UCD UCD
-
-
-
-
-
1
-
-
-
-
-
2011

LS Cup R4

R4

UCD UCD
1
-
-
-
-
-
-
-
-
-
-
League Cup
Season
Round
Team
Starts
Goals
Pens
MP
Assists
Subs
Sub On
Sub Off
Yellow
Red
MinP
2019

Lge Cup QF

QF

Finn Harps Harps
1
-
-
-
-
-
-
-
-
-
-
2014

EA Cup R1

R1

UCD UCD
1
-
-
-
-
-
-
-
-
-
-
2013

EA Cup R1

R1

UCD UCD
1
-
-
-
-
-
-
-
-
-
-
2012

EA Cup R2

R2

UCD UCD
1
-
-
-
-
-
-
-
-
-
-
2012

EA Cup R1

R1

UCD UCD
1
-
-
-
-
-
-
-
-
-
-
2011

EA Cup QF

QF

UCD UCD
-
-
-
-
-
1
-
-
-
-
-
2011

EA Cup R2

R2

UCD UCD
1
-
-
-
-
-
-
-
-
-
-
2011

EA Cup R1

R1

UCD UCD
1
-
-
-
-
-
-
-
-
-
-
2010

EA Cup R1

R1

UCD UCD
-
-
-
-
-
1
-
-
-
-
-
2018 Promotion/Relegation Play-off Series
Season
Round
Team
Starts
Goals
Pens
MP
Assists
Subs
Sub On
Sub Off
Yellow
Red
MinP
2019

PO Final

Final

Finn Harps Harps
2
-
-
-
-
-
-
-
-
-
-