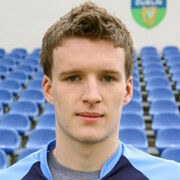 Paul Corry
Midfield
Height 6' 2"
Age 31 years, 6 months
Place of Birth Not Available
Nationality Ireland
Stats based on games populated in our system. They can be viewed below
Paul's Biography
Paul played underage football with Belvedere and in July 2009 he spent two weeks on trial at Burnley. He turned down a contract offer at Turf Moor, choosing instead to join Martin Russell's UCD on a sports scholarship. He went straight into manager Russell's side and scored three times in 10 league appearances as UCD won the 2009 First Division title.

Paul really started to establish himself in 2010, making 29 league appearances and scoring four goals as the Students succeeded in retaining their Premier Division status. And in 2011 Paul was ever-present for Martin Russell's side, making 36 league starts while adding two more goals to his career tally.

On 29 August 2012 it was confirmed that Paul had signed a three year deal with English side Sheffield Wednesday where he made 10 league appearances over a three year period which included loan spells at Tranmere Rovers and Carlisle United. In August 2015 Paul was given a free transfer to Northampton Town where he stayed for one season, making just 4 league appearances.

Paul returned home after his contract expired at Northampton and signed for Stephen Bradley at Shamrock Rovers ahead of the 2017 season.


Career Facts
League of Ireland Premier Division
Season
Round
Team
Starts
Goals
Pens
MP
Assists
Subs
Sub On
Sub Off
Yellow
Red
MinP
2017

Prem

Premier Division

Shamrock Rovers Shamrock R
-
-
-
-
-
5
2
-
-
-
-
2012

Prem

Premier Division

UCD UCD
17
1
-
-
-
-
-
-
4
-
-
2011

Prem

Premier Division

UCD UCD
36
2
-
-
-
-
-
-
1
-
-
2010

Prem

Premier Division

UCD UCD
22
4
-
-
-
7
-
-
2
-
-
League of Ireland First Division
Season
Round
Team
Starts
Goals
Pens
MP
Assists
Subs
Sub On
Sub Off
Yellow
Red
MinP
2009

First

First Division

UCD UCD
8
3
-
-
-
1
-
-
-
-
-
Friendly
Season
Round
Team
Starts
Goals
Pens
MP
Assists
Subs
Sub On
Sub Off
Yellow
Red
MinP
2017

FR

Domestic

Shamrock Rovers Shamrock R
2
1
-
-
-
-
-
-
-
-
-
2012

FR

Domestic

UCD UCD
2
1
-
-
-
-
-
-
-
-
-
2011

FR

Domestic

UCD UCD
2
-
-
-
-
-
-
-
-
-
-
Setanta Sports Cup
Season
Round
Team
Starts
Goals
Pens
MP
Assists
Subs
Sub On
Sub Off
Yellow
Red
MinP
2011

SETA R1

R1

UCD UCD
2
-
-
-
-
-
-
-
-
-
-
FAI Cup
Season
Round
Team
Starts
Goals
Pens
MP
Assists
Subs
Sub On
Sub Off
Yellow
Red
MinP
2012

FAI Cup R2

R2

UCD UCD
1
-
-
-
-
-
-
-
-
-
-
2011

FAI Cup R4

R4

UCD UCD
2
-
-
-
-
-
-
-
-
-
-
2011

FAI Cup R3

R3

UCD UCD
1
-
-
-
-
-
-
-
-
-
-
2010

FAI Cup R4

R4

UCD UCD
-
-
-
-
-
1
-
-
-
-
-
2010

FAI Cup R3

R3

UCD UCD
1
-
-
-
-
-
-
-
-
-
-
Leinster Senior Cup
Season
Round
Team
Starts
Goals
Pens
MP
Assists
Subs
Sub On
Sub Off
Yellow
Red
MinP
2012

LS Cup SF

SF

UCD UCD
-
-
-
-
-
1
-
-
-
-
-
2012

LS Cup R4

R4

UCD UCD
-
-
-
-
-
1
-
-
-
-
-
2010

LS Cup SF

SF

UCD UCD
1
-
-
-
-
-
-
-
-
-
-
League Cup
Season
Round
Team
Starts
Goals
Pens
MP
Assists
Subs
Sub On
Sub Off
Yellow
Red
MinP
2017

EA Cup QF

QF

Shamrock Rovers Shamrock R
1
-
-
-
-
-
-
1
-
-
-
2012

EA Cup R1

R1

UCD UCD
1
-
-
-
-
-
-
-
-
-
-
2011

EA Cup QF

QF

UCD UCD
1
-
-
-
-
-
-
-
-
-
-
2011

EA Cup R2

R2

UCD UCD
1
-
-
-
-
-
-
-
-
-
-
2010

EA Cup R1

R1

UCD UCD
1
-
-
-
-
-
-
-
-
-
-
UEFA European U21 Championships
Season
Round
Team
Starts
Goals
Pens
MP
Assists
Subs
Sub On
Sub Off
Yellow
Red
MinP
2011-2012

Euro U21 Grp 7

Grp 7

Republic of Ireland U21 Ireland U21
-
-
-
-
-
1
-
-
-
-
-