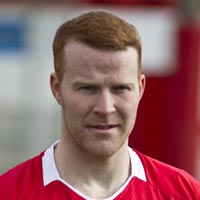 Lorcan Fitzgerald
Defender
Height 173 cm
Age 33 years, 7 months
Place of Birth Swords, Dublin, Ireland
Nationality Ireland
Stats based on games populated in our system. They can be viewed below
Lorcan's Biography
Lorcan began his career at Shelbourne before moving across the water to West Ham United. He spent three years at Upton Park before returning to ireland at the start of the 2009 season when he joined Sporting Fingal. He won an FAI Cup winners medal with the Ravens at the end of 2009 when Fingal beat Sligo Rovers in the final. Lorcan made 24 league appearances in 2010 as Fingal took their place in the Premier Division and he also scored in the away leg against CS Maritimo of Portugal in the Europa League.

In March 2011 Lorcan signed for Shelbourne where he made 24 league appearances as the Reds won promotion from the First Division. However, injury kept him out of the club's FAI Cup final defeat to Sligo Rovers. In 2012 Lorcan made 15 league appearances as The Reds returned to the top tier but injury struck again and he remained side-lined until the summer of 2013 when he re-joined for his former boss Liam Buckley at St Patrick's Athletic. He made just 1 league appearance that season, as a substitute in a 3-1 win away to UCD, as Pats won the 2013 League title.

Lorcan stayed on at St Pats for the 2014 season and added a further 6 league appearances as St Pats finished third in the table behind Cork and Dundalk. In December 2014, he signed for Keith Long at Bohemians and he went on to make 27 league appearances, scoring once, on his debut in the 3-0 win over Limerick, as Bohs finished fifth in the 2015 Premier Division table. In 2016 Lorcan again made 27 league appearances for the Gypsies.


Career Facts
League of Ireland Premier Division
League of Ireland First Division
Season
Round
Team
Starts
Goals
Pens
MP
Assists
Subs
Sub On
Sub Off
Yellow
Red
MinP
2022

First

First Division

Wexford Wexford
12
-
-
-
-
3
1
-
2
1
-
2021

First

First Division

Wexford Wexford
15
1
-
-
-
2
1
-
1
1
-
2019

First

First Division

Shelbourne Shels
25
2
1
2
-
-
-
1
4
-
-
2018

First

First Division

Shelbourne Shels
21
-
-
-
-
-
-
1
3
-
-
2011

First

First Division

Shelbourne Shels
21
1
-
-
-
5
-
-
1
-
-
2009

First

First Division

Sporting Fingal Fingal
13
-
-
-
-
5
-
-
-
-
-
UEFA Champions League
Season
Round
Team
Starts
Goals
Pens
MP
Assists
Subs
Sub On
Sub Off
Yellow
Red
MinP
2014-2015

CL Q2

Q2

St. Patrick's Athletic St. Pats
-
-
-
-
-
2
-
-
-
-
-
Friendly
Setanta Sports Cup
Season
Round
Team
Starts
Goals
Pens
MP
Assists
Subs
Sub On
Sub Off
Yellow
Red
MinP
2014

SETA SF

SF

St. Patrick's Athletic St. Pats
2
-
-
-
-
-
-
-
-
-
-
FAI Cup
Europa League
Season
Round
Team
Starts
Goals
Pens
MP
Assists
Subs
Sub On
Sub Off
Yellow
Red
MinP
2010-2011

EL QR2

QR2

Sporting Fingal Fingal
2
1
-
-
-
-
-
-
-
-
-
Leinster Senior Cup
League Cup
2018 Promotion/Relegation Play-off Series
Season
Round
Team
Starts
Goals
Pens
MP
Assists
Subs
Sub On
Sub Off
Yellow
Red
MinP
2018

PO Quarter Final

QF

Shelbourne Shels
2
-
-
-
-
-
-
-
2
-
-