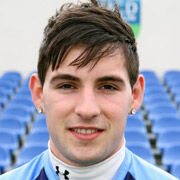 Graham Rusk
Forward
Height Not Available
Age 32 years, 8 months
Place of Birth Not Available
Nationality Ireland
Stats based on games populated in our system. They can be viewed below
Graham's Biography
Graham made occasional appearances for UCD in the side that won the First Division title in 2009. As the club moved up to the Premier Division he continued to appear, either wide in midfield or up front, making 24 league appearances in 2010 but failing to hit the net.

But, in 2011 with the departure of so many of UCD's leading lights, Graham had an opportunity to establish himself as first choice striker and in 32 league outings he hit the net nine times, adding two further goals in the EA Sports Cup. The following year Graham scored seven league goals in just 13 league appearances but at the end of the 2012 season he left UCD to sign for Mick Cooke at Drogheda United.

Graham made 21 appearances in the league for Drogheda, although seven of these were off the bench, and he scored twice, in two 2-2 draws against Dundalk and Cork City, as the club finished eighth in the league. In December 2013, Graham signed for Athlone Town for the 2014 season.

Graham went on to score one goal, in a 3-1 defeat to Bohemians, in twenty-one appearances for Athlone were relegated from the Premier Division on the last day of the season.


Career Facts
League of Ireland Premier Division
Season
Round
Team
Starts
Goals
Pens
MP
Assists
Subs
Sub On
Sub Off
Yellow
Red
MinP
2014

Prem

Premier Division

Athlone Town Athlone
15
1
-
-
-
8
5
1
3
-
-
2013

Prem

Premier Division

Drogheda United Drogheda
14
2
-
-
-
13
7
1
-
-
-
2012

Prem

Premier Division

UCD UCD
13
1
6
-
-
2
-
-
1
-
-
2011

Prem

Premier Division

UCD UCD
29
9
-
1
-
3
-
-
4
-
-
2010

Prem

Premier Division

UCD UCD
15
-
-
-
-
11
-
-
2
-
-
League of Ireland First Division
Season
Round
Team
Starts
Goals
Pens
MP
Assists
Subs
Sub On
Sub Off
Yellow
Red
MinP
2009

First

First Division

UCD UCD
1
1
-
-
-
7
-
-
1
-
-
Friendly
Season
Round
Team
Starts
Goals
Pens
MP
Assists
Subs
Sub On
Sub Off
Yellow
Red
MinP
2013

FR

Domestic

Drogheda United Drogheda
-
-
-
1
-
2
-
-
-
-
-
2012

FR

Domestic

UCD UCD
2
-
-
-
-
-
-
-
-
-
-
2011

FR

Domestic

UCD UCD
2
3
1
-
-
-
-
-
-
-
-
Setanta Sports Cup
FAI Cup
Season
Round
Team
Starts
Goals
Pens
MP
Assists
Subs
Sub On
Sub Off
Yellow
Red
MinP
2013

FAI Cup Final

Final

Drogheda United Drogheda
-
-
-
-
-
1
1
-
-
-
-
2013

FAI Cup SF

SF

Drogheda United Drogheda
-
-
-
-
-
1
-
-
-
-
-
2013

FAI Cup QF

QF

Drogheda United Drogheda
-
-
-
-
-
2
1
-
-
-
-
2012

FAI Cup R2

R2

UCD UCD
1
1
-
-
-
-
-
-
-
-
-
2011

FAI Cup R4

R4

UCD UCD
2
-
-
-
-
-
-
-
-
-
-
2010

FAI Cup R4

R4

UCD UCD
1
-
-
-
-
-
-
-
-
-
-
2010

FAI Cup R3

R3

UCD UCD
-
-
-
-
-
1
-
-
-
-
-
2009

FAI Cup R4

R4

UCD UCD
-
-
-
-
-
1
-
-
-
-
-
Europa League
Season
Round
Team
Starts
Goals
Pens
MP
Assists
Subs
Sub On
Sub Off
Yellow
Red
MinP
2013-2014

EL QR1

QR1

Drogheda United Drogheda
-
-
-
-
-
2
1
-
-
-
-
Leinster Senior Cup
Season
Round
Team
Starts
Goals
Pens
MP
Assists
Subs
Sub On
Sub Off
Yellow
Red
MinP
2014

LS Cup QF

QF

Athlone Town Athlone
1
-
-
-
-
-
-
-
-
-
-
2014

LS Cup R4

R4

Athlone Town Athlone
1
1
-
-
-
-
-
-
-
-
-
2013

LS Cup R4

R4

Drogheda United Drogheda
-
-
-
-
-
1
1
-
-
-
-
2012

LS Cup SF

SF

UCD UCD
-
1
1
-
-
1
-
-
-
-
-
2012

LS Cup R4

R4

UCD UCD
1
-
-
-
-
-
-
-
-
-
-
2010

LS Cup SF

SF

UCD UCD
1
-
-
-
-
-
-
-
-
-
-
2010

LS Cup R1

R1

UCD UCD
1
1
-
-
-
-
-
-
-
-
-
League Cup
Season
Round
Team
Starts
Goals
Pens
MP
Assists
Subs
Sub On
Sub Off
Yellow
Red
MinP
2014

EA Cup R1

R1

Athlone Town Athlone
1
-
-
-
-
-
-
-
-
-
-
2013

EA Cup Final

Final

Drogheda United Drogheda
-
-
-
-
-
1
1
-
-
-
-
2013

EA Cup QF

QF

Drogheda United Drogheda
-
-
-
-
-
1
-
-
-
-
-
2013

EA Cup R2

R2

Drogheda United Drogheda
1
1
-
-
-
-
-
-
-
-
-
2012

EA Cup R2

R2

UCD UCD
1
-
-
-
-
-
-
-
-
-
-
2012

EA Cup R1

R1

UCD UCD
1
-
-
-
-
-
-
-
-
-
-
2011

EA Cup QF

QF

UCD UCD
1
-
-
-
-
-
-
-
-
-
-
2011

EA Cup R2

R2

UCD UCD
-
-
-
-
-
1
-
-
-
-
-
2011

EA Cup R1

R1

UCD UCD
1
2
-
-
-
-
-
-
-
-
-
2010

EA Cup R2

R2

UCD UCD
1
-
-
-
-
-
-
-
-
-
-
2009

EA Cup SF

SF

UCD UCD
-
-
-
-
-
1
-
-
-
-
-
2009

EA Cup R2

R2

UCD UCD
1
1
-
-
-
-
-
-
-
-
-
2009

EA Cup R1

R1

UCD UCD
1
-
-
-
-
-
-
-
-
-
-