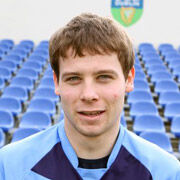 Ciaran Nangle
Defender
Height 5' 8"
Age 32 years, 4 months
Place of Birth Not Available
Nationality Ireland
Stats based on games populated in our system. They can be viewed below
Ciaran's Biography
(Photo by: Ed Scannell)

Ciaran is a left back who made his league debut for UCD on the opening day of the 2009 season in a 2-1 win over Limerick FC at Belfield. He went on to win the First Division title with club that season and to make a further 79 league appearances in the club's three subsequent Premier Division campaigns. At the end of 2012, with UCD having again assured their survival in the top tier, Ciaran left the club to sign for Aaron Callaghan at Bohemians.

Ciaran played 11 games under Aaron Callaghan at Bohemians but he was left out of the squad by new Bohs boss Owen Heary. He did not re-sign for Bohemians for the 2014 season.

Ciaran played for Crumlin United during the 2015/16 season before moving to Bluebell United for the 2016/17 LSL campaign.


Career Facts
League of Ireland Premier Division
Season
Round
Team
Starts
Goals
Pens
MP
Assists
Subs
Sub On
Sub Off
Yellow
Red
MinP
2013

Prem

Premier Division

Bohemians Bohs
8
-
-
-
-
11
3
1
2
-
-
2012

Prem

Premier Division

UCD UCD
25
-
-
-
-
4
-
-
-
-
-
2011

Prem

Premier Division

UCD UCD
25
-
-
-
-
2
-
-
1
1
-
2010

Prem

Premier Division

UCD UCD
25
-
-
-
-
4
-
-
1
-
-
League of Ireland First Division
Season
Round
Team
Starts
Goals
Pens
MP
Assists
Subs
Sub On
Sub Off
Yellow
Red
MinP
2009

First

First Division

UCD UCD
23
-
-
-
-
4
-
-
-
-
-
Friendly
Season
Round
Team
Starts
Goals
Pens
MP
Assists
Subs
Sub On
Sub Off
Yellow
Red
MinP
2017

FR

Domestic

Bluebell United Bluebell
-
-
-
-
-
1
-
-
-
-
-
2013

FR

Domestic

Bohemians Bohs
1
-
-
-
-
-
-
-
-
-
-
2012

FR

Domestic

UCD UCD
3
-
-
-
-
-
-
-
-
-
-
2011

FR

Domestic

UCD UCD
2
-
-
-
-
-
-
-
-
-
-
Setanta Sports Cup
Season
Round
Team
Starts
Goals
Pens
MP
Assists
Subs
Sub On
Sub Off
Yellow
Red
MinP
2011

SETA R1

R1

UCD UCD
2
-
-
-
-
-
-
-
-
-
-
FAI Cup
Season
Round
Team
Starts
Goals
Pens
MP
Assists
Subs
Sub On
Sub Off
Yellow
Red
MinP
2015

FAI Cup R1

R1

Crumlin United Crumlin Utd
1
-
-
-
-
-
-
-
-
-
-
2012

FAI Cup R3

R3

UCD UCD
1
-
-
-
-
-
-
-
-
-
-
2012

FAI Cup R2

R2

UCD UCD
1
-
-
-
-
-
-
-
-
-
-
2011

FAI Cup R3

R3

UCD UCD
1
-
-
-
-
-
-
-
-
-
-
2010

FAI Cup R4

R4

UCD UCD
-
-
-
-
-
1
-
-
-
-
-
2010

FAI Cup R3

R3

UCD UCD
1
-
-
-
-
-
-
-
-
-
-
2009

FAI Cup R4

R4

UCD UCD
1
-
-
-
-
-
-
-
-
-
-
2009

FAI Cup R3

R3

UCD UCD
1
-
-
-
-
-
-
-
-
-
-
Leinster Senior Cup
Season
Round
Team
Starts
Goals
Pens
MP
Assists
Subs
Sub On
Sub Off
Yellow
Red
MinP
2016

LS Cup R4

R4

Crumlin United Crumlin Utd
1
-
-
-
-
-
-
-
-
-
-
2015

LS Cup QF

QF

Crumlin United Crumlin Utd
1
-
-
-
-
-
-
-
-
-
-
2013

LS Cup R4

R4

Bohemians Bohs
1
-
-
-
-
-
-
-
-
-
-
2012

LS Cup SF

SF

UCD UCD
1
-
-
-
-
-
-
-
-
-
-
2012

LS Cup R4

R4

UCD UCD
1
-
-
-
-
-
-
-
-
-
-
2010

LS Cup SF

SF

UCD UCD
1
-
-
-
-
-
-
-
-
-
-
2010

LS Cup R1

R1

UCD UCD
1
-
-
-
-
-
-
-
-
-
-
League Cup
Season
Round
Team
Starts
Goals
Pens
MP
Assists
Subs
Sub On
Sub Off
Yellow
Red
MinP
2015

EA Cup R2

R2

Crumlin United Crumlin Utd
1
-
-
-
-
-
-
-
-
-
-
2015

EA Cup R1

R1

Crumlin United Crumlin Utd
1
-
-
-
-
-
-
-
-
-
-
2013

EA Cup QF

QF

Bohemians Bohs
1
-
-
-
-
-
-
1
-
-
-
2013

EA Cup R2

R2

Bohemians Bohs
1
-
-
-
-
-
-
-
-
-
-
2013

EA Cup R1

R1

Bohemians Bohs
1
-
-
-
-
-
-
-
-
-
-
2012

EA Cup R2

R2

UCD UCD
1
-
-
-
-
-
-
-
-
-
-
2012

EA Cup R1

R1

UCD UCD
-
-
-
-
-
1
-
-
-
-
-
2011

EA Cup QF

QF

UCD UCD
1
-
-
-
-
-
-
-
-
-
-
2011

EA Cup R2

R2

UCD UCD
1
-
-
-
-
-
-
-
-
-
-
2011

EA Cup R1

R1

UCD UCD
1
-
-
-
-
-
-
-
-
-
-
2010

EA Cup R2

R2

UCD UCD
1
-
-
-
-
-
-
-
-
-
-
2009

EA Cup SF

SF

UCD UCD
1
-
-
-
-
-
-
-
-
-
-
2009

EA Cup QF

QF

UCD UCD
1
-
-
-
-
-
-
-
-
-
-
2009

EA Cup R2

R2

UCD UCD
1
-
-
-
-
-
-
-
-
-
-
2009

EA Cup R1

R1

UCD UCD
1
-
-
-
-
-
-
-
-
-
-
Intermediate Cup
Season
Round
Team
Starts
Goals
Pens
MP
Assists
Subs
Sub On
Sub Off
Yellow
Red
MinP
2014-2015

IC Final

Final

Crumlin United Crumlin Utd
1
-
-
-
-
-
-
-
-
-
-