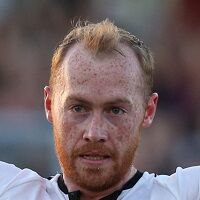 Chris Shields
Midfield
Height 6' 1"
Age 31 years, 9 months
Place of Birth Dubin
Nationality Ireland
Stats based on games populated in our system. They can be viewed below
Chris's Biography
Chris is a midfielder who began his career at St Francis FC before signing for Bray Wanderers. He made his league debut on the last day of the 2008 season in a 2-0 defeat away to Sligo Rovers. In 2009 he established himself as a stalwart in the midfield of Eddie Gormley's young Bray squad.

Chris scored his first goal for Bray in a 3-1 home defeat to Bohemians on 3 July 2009, also scoring in that season's FAI Cup quarter-final defeat to Longford Town. He continued to play a crucial role in the Seagull's fortunes, making 31 league appearances in 2010 and a further 29 in 2011.

In January 2012 Chris moved on from Bray, signing for new Dundalk boss Sean McCaffrey. It was a difficult year for the Lilywhites who avoided relegation thanks to a play-off win over Waterford United but Chris scored twice in 25 league appearances and followed that up in 2013 with a further 19 league outings as Dundalk reversed their fortunes and finished second behind champions St Patrick's Ath.

Chris and Dundalk went one better in the 2014 season, with Chris playing 28 league games as Dundalk won the league title on the last day of the season, beating Cork City 2-0 at Oriel Park. Chris re-signed for the Lilywhites for 2015 and went on to make 30 league appearances for the club as Dundalk once more won the Premier Division title. He also appeared in both Champions League ties, as the Lilywhites went out to BATE Borisov, and in the FAI Cup Final, in which they beat Cork City 1-0 after extratime.

Chris signed a new two-year deal with the Louth club in October 2015 and 2016 brought a third league title in a row with Chris making another 26 league appearances. He also played in ten of Dundalk's European games as they reached the group stage of the Europa League.

Shields would then sign back up with the Lilywhites for a seventh and eight season in October 2017, signing a deal that is set to run till the end of the 2019 campaign. Chris signed a new deal to run until the end of the 2021 season before the start of 2020.


Career Facts
League of Ireland Premier Division
UEFA Champions League
Season
Round
Team
Starts
Goals
Pens
MP
Assists
Subs
Sub On
Sub Off
Yellow
Red
MinP
2020-2021

CL QR1

1st Q Rd

Dundalk Dundalk
1
-
-
-
-
-
-
1
1
-
-
2016-2017

CL Playoff

Playoff

Dundalk Dundalk
2
-
-
-
-
-
-
1
-
-
-
2016-2017

CL Q3

Q3

Dundalk Dundalk
1
-
-
-
-
1
1
-
-
-
-
2016-2017

CL Q2

Q2

Dundalk Dundalk
-
-
-
-
-
2
-
-
-
-
-
2015-2016

CL Q2

Q2

Dundalk Dundalk
1
-
-
-
-
1
1
-
-
-
-
Presidents Cup
Season
Round
Team
Starts
Goals
Pens
MP
Assists
Subs
Sub On
Sub Off
Yellow
Red
MinP
2021

President's Cup

2021 Pres Cup

Dundalk Dundalk
1
-
-
-
-
-
-
-
1
-
-
2019

President's Cup

2019 Pres Cup

Dundalk Dundalk
1
-
-
-
-
-
-
-
1
-
-
2018

Pres Cup

Final

Dundalk Dundalk
1
-
-
-
-
-
-
-
-
-
-
2016

Pres Cup

Final

Dundalk Dundalk
1
-
-
-
-
-
-
-
1
-
-
2015

Pres Cup

Final

Dundalk Dundalk
1
-
-
-
-
-
-
-
-
-
-
Friendly
Setanta Sports Cup
Season
Round
Team
Starts
Goals
Pens
MP
Assists
Subs
Sub On
Sub Off
Yellow
Red
MinP
2014

SETA Final

Final

Dundalk Dundalk
1
-
-
-
-
-
-
1
1
-
-
2014

SETA SF

SF

Dundalk Dundalk
2
1
-
-
-
-
-
-
1
-
-
2014

SETA QF

QF

Dundalk Dundalk
-
-
-
-
-
1
-
-
-
-
-
2008

SETA Grp 2

Grp 2

Dundalk Dundalk
1
-
-
-
-
-
-
-
-
-
-
FAI Cup
Europa League
Leinster Senior Cup
League Cup
UEFA Champions League Qualifiers
Season
Round
Team
Starts
Goals
Pens
MP
Assists
Subs
Sub On
Sub Off
Yellow
Red
MinP
2022-2023

CL QR1

QR1

Linfield Linfield
1
-
-
-
-
-
-
-
1
-
-
2021-2022

CL QR1

1st Q Rd

Linfield Linfield
2
-
1
-
-
-
-
-
1
-
-
2019-2020

CL QR2

QR2

Dundalk Dundalk
2
-
-
-
-
-
-
-
-
-
-
2019-2020

CL QR1

QR1

Dundalk Dundalk
2
-
-
-
-
-
-
1
1
-
-
2017-2018

CL QR2

QR2

Dundalk Dundalk
2
-
-
-
-
-
-
-
-
-
-
Unite the Union Champions Cup
Season
Round
Team
Starts
Goals
Pens
MP
Assists
Subs
Sub On
Sub Off
Yellow
Red
MinP
2019

UTU

Final

Dundalk Dundalk
2
-
-
-
-
-
-
-
1
-
-
Europa Conference League
Season
Round
Team
Starts
Goals
Pens
MP
Assists
Subs
Sub On
Sub Off
Yellow
Red
MinP
2021-2022

ECL 2QR

2QR

Linfield Linfield
1
-
-
-
-
-
-
-
-
-
-