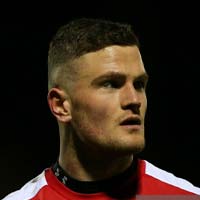 Colin McCabe
Goalkeeper
Height 6' 4"
Age 25 years, 10 months
Place of Birth Ballinagh, Co Cavan
Nationality Ireland
Stats based on games populated in our system. They can be viewed below
Colin's Biography
Colin played underage football in his native Cavan before joining the youth system at Celtic in August 2012. He went on loan at Stenhousemuir in February 2016 where he played until the end of the 2015/16 season. He returned to Stenhousemuir on a season-long loan for 2016/17 by which time he had made 27 senior appearances for the club.

In August 2017 Colin left Parkhead to return to Ireland where he signed for Keith Long at Bohemians.

In November 2017, Colin re-signed with Bohs.

In February 2019, Colin signed with First Division side Shelbourne. In January 2021, Colin signed for Drogheda United. In December 2021, Colin re-signed with Drogs having played six times for them in 2021.


Career Facts
League of Ireland Premier Division
League of Ireland First Division
Season
Round
Team
Starts
Goals
Pens
MP
Assists
Subs
Sub On
Sub Off
Yellow
Red
MinP
2019

First

First Division

Shelbourne Shels
20
-
-
-
-
7
1
-
-
-
-
Friendly
League Promotion Playoff
Season
Round
Team
Starts
Goals
Pens
MP
Assists
Subs
Sub On
Sub Off
Yellow
Red
MinP
2020

PO Final

Final

Shelbourne Shels
-
-
-
-
-
1
-
-
-
-
-
FAI Cup
Leinster Senior Cup
Season
Round
Team
Starts
Goals
Pens
MP
Assists
Subs
Sub On
Sub Off
Yellow
Red
MinP
2019

19 LSC 4th Rd

4th Rd

Shelbourne Shels
1
-
-
-
-
-
-
-
-
-
-
League Cup
Season
Round
Team
Starts
Goals
Pens
MP
Assists
Subs
Sub On
Sub Off
Yellow
Red
MinP
2019

Lg Cup 2nd RD

2nd Round

Shelbourne Shels
1
-
-
-
-
-
-
-
-
-
-
2019

Lg Cup 1st RD

1st Round

Shelbourne Shels
1
-
-
-
-
-
-
-
-
-
-
2018

LG Cup R2

R2

Bohemians Bohs
1
-
-
-
-
-
-
-
-
-
-
2018

LG Cup R1

R1

Bohemians Bohs
1
-
-
-
-
-
-
-
-
-
-
Challenge Cup
Season
Round
Team
Starts
Goals
Pens
MP
Assists
Subs
Sub On
Sub Off
Yellow
Red
MinP
2018-2019

IRN-BRU R3

R3

Bohemians Bohs
-
-
-
-
-
1
-
-
-
-
-
2018-2019

IRN-BRU R2

R2

Bohemians Bohs
1
-
-
-
-
-
-
-
-
-
-