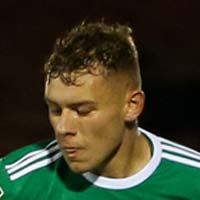 Beineon O'Brien Whitmarsh
Forward
Height
Age 22 years, 7 months
Place of Birth
Nationality Ireland
Stats based on games populated in our system. They can be viewed below
Beineon's Biography
Beineon joined Cork City's U17 team in July of 2016 but a year later, in the summer of 2017, he switched to the U17 side at nearby Cobh Ramblers. He announced himself at Ramblers with a volleyed goal against Limerick's U17s on 8 July and followed that up with a further five goals in his next two U17 games. He also made his senior debut as a substitute, in a 4-0 defeat away to Waterford FC on 21 July.

A year later, in August 2018 Beineon left Cobh to return to Cork City where he joined up with their U19 squad. The following season, 2019, he began to appear for City's senior side and in 2020 he bagged his first senior goals, scoring against Midleton in the Munster Senior Cup and registering his first league goal in a 1-1 draw with Derry City in November 2020.

In 2021 Beineon scored five league and Cup goals for Cork City but he left at the end of the season, in December 2021, to rejoin Cobh Ramblers.


Career Facts
League of Ireland Premier Division
Season
Round
Team
Starts
Goals
Pens
MP
Assists
Subs
Sub On
Sub Off
Yellow
Red
MinP
2020

Prem

Premier Division

Cork City Cork
4
1
-
-
-
4
2
3
2
-
-
2019

Prem

Premier Division

Cork City Cork
3
-
-
-
-
10
1
1
-
-
-
League of Ireland First Division
Season
Round
Team
Starts
Goals
Pens
MP
Assists
Subs
Sub On
Sub Off
Yellow
Red
MinP
2022

First

First Division

Cobh Ramblers Cobh
14
5
1
1
2
6
1
2
4
-
-
2021

First

First Division

Cork City Cork
12
4
-
-
-
15
9
3
3
-
-
2018

First

First Division

Cobh Ramblers Cobh
-
-
-
-
-
4
2
-
-
-
-
2017

First

First Division

Cobh Ramblers Cobh
-
1
-
-
-
4
3
-
-
-
-
Friendly
Season
Round
Team
Starts
Goals
Pens
MP
Assists
Subs
Sub On
Sub Off
Yellow
Red
MinP
2021

FR

Domestic

Cork City Cork
2
-
-
-
-
-
-
1
-
-
-
2020

FR

Domestic

Cork City Cork
1
2
-
-
-
2
1
-
-
-
-
2018

FR

Domestic

Cobh Ramblers Cobh
1
-
-
-
-
1
-
-
-
-
-
FAI Cup
Season
Round
Team
Starts
Goals
Pens
MP
Assists
Subs
Sub On
Sub Off
Yellow
Red
MinP
2021

FAI Cup R2

R2

Cork City Cork
1
-
-
-
-
-
-
1
-
-
-
2021

FAI Cup R1

R1

Cork City Cork
1
1
-
-
-
-
-
-
-
-
-
2019

FAI R2

R2

Cork City Cork
-
-
-
-
-
1
1
-
-
-
-
2017

FAI Cup R1

R1

Cobh Ramblers Cobh
1
-
-
-
-
-
-
-
-
-
-
Munster Senior Cup
Season
Round
Team
Starts
Goals
Pens
MP
Assists
Subs
Sub On
Sub Off
Yellow
Red
MinP
2020

MSC Final

Final

Cork City Cork
1
-
-
-
-
-
-
-
-
-
-
2020

MSC SF

SF

Cork City Cork
1
1
-
-
-
-
-
-
-
-
-
League Cup
Season
Round
Team
Starts
Goals
Pens
MP
Assists
Subs
Sub On
Sub Off
Yellow
Red
MinP
2019

Lge Cup QF

QF

Cork City Cork
-
-
-
-
-
1
-
-
-
-
-
2018

LG Cup R3

QF

Cobh Ramblers Cobh
-
-
-
-
-
1
-
-
-
-
-
2018

LG Cup R1

R1

Cobh Ramblers Cobh
1
-
-
-
-
-
-
1
-
-
-
National U17 League
National U19 League