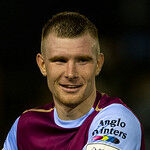 Mark Doyle
Forward
Height
Age 24 years
Place of Birth
Nationality Ireland
Stats based on games populated in our system. They can be viewed below
Mark's Biography
Mark played with Drogheda United's U19 squad in the 2015, 2016 and 2017 seasons. He was added to Pete Mahon's senior squad ahead of the 2016 First Division campaign and made his league debut on the opening night of the 2016 season in a 2-1 win over Waterford United at United Park.

He made 6 league appearances for the Drogs that season and was again part of Drogheda's first team squad in 2017 when he made 16 appearances and scored twice as they were relegated from the Premier Division.Mark scored 9 goals during 2018 as Drogheda reached the play-offs and went on to get 13 goals in 18 league games in 2020, matching his tally for the 2019 season. In November 2020, Mark signed a new deal with the Drogs for 2021.

In January 2022 Mark followed his former boss at Drogheda, Tim Clancy, to St Patrick's Athletic.


Career Facts
League of Ireland Premier Division
League of Ireland First Division
Presidents Cup
Season
Round
Team
Starts
Goals
Pens
MP
Assists
Subs
Sub On
Sub Off
Yellow
Red
MinP
2022

President's Cup

2022 Pres Cup

St. Patrick's Athletic PATS
1
-
-
-
-
-
-
-
-
-
-
Friendly
FAI Cup
Leinster Senior Cup
U19 Cup
Season
Round
Team
Starts
Goals
Pens
MP
Assists
Subs
Sub On
Sub Off
Yellow
Red
MinP
2017

U19 Cup QF

QF

Drogheda United U19 DROG U19
1
-
-
-
-
-
-
-
1
-
-
League Cup
National U19 League
2018 Promotion/Relegation Play-off Series
Europa Conference League
Season
Round
Team
Starts
Goals
Pens
MP
Assists
Subs
Sub On
Sub Off
Yellow
Red
MinP
2022-2023

ECL QR2

QR2

St. Patrick's Athletic PATS
1
-
-
-
-
-
-
-
-
-
-