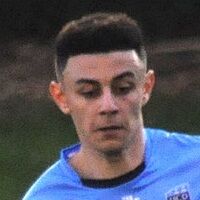 Yoyo Mahdy
Forward
Height
Age 24 years, 6 months
Place of Birth
Nationality Ireland
Stats based on games populated in our system. They can be viewed below
Yoyo's Biography
Yousef played underage football with Mervue United before joining Limerick's u19 squad for the 2015 and 2016 seasons. In January 2016, Yousef was a part of the Limerick squad that played in the Munster Senior Cup against Cobh Wanderers and he was later a part of the Limerick senior squad for the First Division campaign.

In January 2017 Yousef signed for Collie O'Neill at UCD and made his competitive debut in a Leinster Senior Cup tie against Drogheda United on 17 February 2017. Having made 96 appearances for UCD, Yoyo announced in January 2021 that he had left the club after scoring 36 goals. In the 2020 season he scored 16 times in 18 games during the truncated season.

In January 2021, Yoyo signed for Shelbourne.


Career Facts
League of Ireland Premier Division
Season
Round
Team
Starts
Goals
Pens
MP
Assists
Subs
Sub On
Sub Off
Yellow
Red
MinP
2022

Prem

Premier Division

Finn Harps Harps
12
1
-
-
-
9
7
2
1
-
-
2019

Prem

Premier Division

UCD UCD
25
5
-
-
-
10
10
1
-
-
-
League of Ireland First Division
Season
Round
Team
Starts
Goals
Pens
MP
Assists
Subs
Sub On
Sub Off
Yellow
Red
MinP
2021

First

First Division

Shelbourne Shels
9
3
1
-
-
11
6
1
-
-
-
2020

First

First Division

UCD UCD
15
13
2
1
6
2
2
1
1
-
-
2018

First

First Division

UCD UCD
9
8
-
-
-
18
15
1
-
-
-
2017

First

First Division

UCD UCD
-
-
-
-
-
2
1
-
-
-
-
Friendly
Season
Round
Team
Starts
Goals
Pens
MP
Assists
Subs
Sub On
Sub Off
Yellow
Red
MinP
2021

FR

Domestic

Shelbourne Shels
2
1
-
-
-
-
-
1
-
-
-
2020

FR

Domestic

UCD UCD
1
-
-
-
-
-
-
2
-
-
-
2019

FR

Domestic

UCD UCD
1
-
-
-
-
-
-
-
-
-
-
2018

FR

Domestic

UCD UCD
1
-
-
-
-
-
-
-
-
-
-
2016

FR

Domestic

Limerick Limerick
-
-
-
-
-
1
-
-
-
-
-
League Promotion Playoff
Season
Round
Team
Starts
Goals
Pens
MP
Assists
Subs
Sub On
Sub Off
Yellow
Red
MinP
2020

PO Quarter Final

QF

UCD UCD
1
1
-
-
-
-
-
-
-
-
-
FAI Cup
Season
Round
Team
Starts
Goals
Pens
MP
Assists
Subs
Sub On
Sub Off
Yellow
Red
MinP
2020

FAI Cup R2

R2

UCD UCD
1
-
-
-
-
-
-
1
-
-
-
2019

2019 FAI QF

QF

UCD UCD
1
-
-
-
-
-
-
-
-
-
-
2019

FAI R2

R2

UCD UCD
1
1
-
-
-
-
-
-
-
-
-
2019

FAI R1

R1

UCD UCD
-
1
-
-
-
1
1
-
-
-
-
2018

FAI SF

SF

UCD UCD
-
-
-
-
-
1
1
-
-
-
-
2018

FAI QF

QF

UCD UCD
-
-
-
-
-
1
1
-
-
-
-
2018

FAI R2

R2

UCD UCD
1
2
-
-
-
-
-
-
-
-
-
2018

FAI R1

R1

UCD UCD
-
-
-
-
-
1
1
-
-
-
-
Leinster Senior Cup
Season
Round
Team
Starts
Goals
Pens
MP
Assists
Subs
Sub On
Sub Off
Yellow
Red
MinP
2019

LSC QF

QF

UCD UCD
1
1
-
-
-
-
-
-
-
-
-
2019

19 LSC 4th Rd

4th Rd

UCD UCD
1
-
-
-
-
-
-
1
-
-
-
2018

LSC 4th RD

R4

UCD UCD
1
-
-
-
-
-
-
-
-
-
-
2017

LS Cup R4

R4

UCD UCD
1
-
-
-
-
-
-
1
-
-
-
Munster Senior Cup
Season
Round
Team
Starts
Goals
Pens
MP
Assists
Subs
Sub On
Sub Off
Yellow
Red
MinP
2016

MS Cup QF

QF

Limerick Limerick
-
-
-
-
-
1
-
-
-
-
-
U19 Cup
Season
Round
Team
Starts
Goals
Pens
MP
Assists
Subs
Sub On
Sub Off
Yellow
Red
MinP
2017

U19 Cup Final

Final

UCD U19 UCD U19
1
-
-
-
-
-
-
-
-
-
-
2017

U19 Cup QF

QF

UCD U19 UCD U19
-
1
-
-
-
-
-
-
-
-
-
2016

U19 Cup

U19 Cup

Limerick FC U19 LIM U19
-
2
-
-
-
1
-
-
-
-
-
League Cup
Season
Round
Team
Starts
Goals
Pens
MP
Assists
Subs
Sub On
Sub Off
Yellow
Red
MinP
2019

Lge Cup QF

QF

UCD UCD
1
1
-
-
-
-
-
-
-
-
-
2019

Lg Cup 2nd RD

2nd Round

UCD UCD
1
-
-
-
-
-
-
-
-
-
-
2018

LG Cup R2

R2

UCD UCD
1
1
-
-
-
-
-
-
1
-
-
2018

LG Cup R1

R1

UCD UCD
1
1
-
-
-
-
-
-
-
-
-
2017

EA Cup R2

R2

UCD UCD
-
-
-
-
-
1
-
-
-
-
-
National U19 League