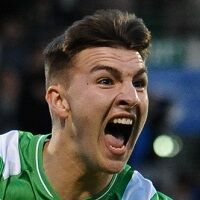 Sean Boyd
Forward
Height
Age 24 years, 5 months
Place of Birth
Nationality Ireland
Stats based on games populated in our system. They can be viewed below
Sean's Biography
Sean signed for Shamrock Rovers U19's ahead of the 2014/15 season and also played in their short 2015 campaign. In December 2015 Sean moved to Rivervalley Rangers although he returned to Shamrock Rovers u19 squad ahead of the 2016 season.

Sean made his first competitive appearance for the Hoops in a Leinster Senior Cup defeat to Collinstown and got his first goal on his senior debut in a an EA Cup win over Athlone Town on 19 April 2016. His league bow came against Wexford Youths on 13 May and he finished the season with five goals from 18 league appearances. He added two more goals in Cup competition.

In December 2016, Shane signed a new contract with Shamrock Rovers for the 2017 season. Sean re-signed for Rovers for the 2019 season. Sean left Rovers at the end of the 2019 season.


Career Facts
League of Ireland Premier Division
League of Ireland First Division
Season
Round
Team
Starts
Goals
Pens
MP
Assists
Subs
Sub On
Sub Off
Yellow
Red
MinP
2019

First

First Division

Longford Town Longford
4
2
-
-
-
1
1
2
1
-
-
Friendly
FAI Cup
Europa League
Leinster Senior Cup
U19 Cup
Season
Round
Team
Starts
Goals
Pens
MP
Assists
Subs
Sub On
Sub Off
Yellow
Red
MinP
2016

U19 Cup

U19 Cup

Shamrock Rovers U19 HOOPS U19
1
-
-
-
-
-
-
-
-
-
-
League Cup
National U19 League
Atlantic Cup
Season
Round
Team
Starts
Goals
Pens
MP
Assists
Subs
Sub On
Sub Off
Yellow
Red
MinP
2018

AC

Grp

Shamrock Rovers Shamrock R
1
1
-
-
-
2
-
-
-
-
-
2018 Promotion/Relegation Play-off Series
Season
Round
Team
Starts
Goals
Pens
MP
Assists
Subs
Sub On
Sub Off
Yellow
Red
MinP
2019

PO Quarter Final

QF

Longford Town Longford
-
-
-
-
-
2
-
-
-
-
-