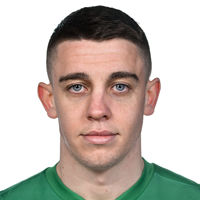 Gary O'Neill
Midfield
Height 180cm
Age 27 years, 10 months
Place of Birth Kerry
Nationality Ireland
Stats based on games populated in our system. They can be viewed below
Gary's Biography
Gary joined UCD from Hereford United in February 2015 and made his senior debut for the Students away to Dundalk in a Leinster Senior Cup tie on 10 February 2015. He then scored on his league debut, a 3-0 win away at Cobh Ramblers on 7 March and went on to make 25 league appearances, scoring three times in the process, as UCD claimed a play-off spot. Gary also played in all four Europa League games for UCD that year and in both promotion play-off matches, which the Students lost to Finn Harps.

In 2016 Gary was again a lynchpin in UCD's midfield, scoring 13 times in 27 league appearances as well as hitting the net three times in Cup competitions.

In June 2019, Gary swapped UCD for Tallaght Stadium by signing for Shamrock Rovers.


Career Facts
| Season | Round | Team | Starts | Goals | Pens | MP | Assists | Subs | Sub On | Sub Off | Yellow | Red | MinP |
| --- | --- | --- | --- | --- | --- | --- | --- | --- | --- | --- | --- | --- | --- |
| | FR | Shamrock Rovers Shamrock R | - | - | - | - | - | 1 | 1 | - | - | - | - |
League of Ireland Premier Division
League of Ireland First Division
Season
Round
Team
Starts
Goals
Pens
MP
Assists
Subs
Sub On
Sub Off
Yellow
Red
MinP
2018

First

First Division

UCD UCD
27
6
3
-
-
-
-
-
1
-
-
2017

First

First Division

UCD UCD
17
3
2
2
-
1
1
1
2
-
-
2016

First

First Division

UCD UCD
27
8
5
-
-
-
-
1
3
-
-
2015

First

First Division

UCD UCD
24
1
2
-
-
1
1
1
5
1
-
Presidents Cup
Friendly
Season
Round
Team
Starts
Goals
Pens
MP
Assists
Subs
Sub On
Sub Off
Yellow
Red
MinP
2021

FR

Domestic

Shamrock Rovers Shamrock R
2
-
-
-
-
-
-
-
-
-
-
2020

FR

Domestic

Shamrock Rovers Shamrock R
2
1
-
-
-
3
2
-
-
-
-
2019

FR

Domestic

UCD UCD
1
-
-
-
-
-
-
-
-
-
-
2018

FR

Domestic

UCD UCD
1
-
-
-
-
-
-
-
-
-
-
2017

FR

Domestic

UCD UCD
2
-
-
-
-
-
-
-
-
-
-
2016

FR

Domestic

UCD UCD
4
-
1
-
-
-
-
1
-
-
-
2015

FR

Domestic

UCD UCD
2
1
-
-
-
1
-
-
1
-
-
FAI Cup
Europa League
Leinster Senior Cup
Season
Round
Team
Starts
Goals
Pens
MP
Assists
Subs
Sub On
Sub Off
Yellow
Red
MinP
2018

LSC 4th RD

R4

UCD UCD
-
-
-
-
-
1
-
-
-
-
-
2017

LS Cup SF

SF

UCD UCD
1
-
2
-
-
-
-
-
-
-
-
2017

LS Cup QF

QF

UCD UCD
1
1
-
-
-
-
-
1
-
-
-
2016

LS Cup SF

SF

UCD UCD
1
-
-
-
-
-
-
-
-
-
-
2016

LS Cup QF

QF

UCD UCD
1
2
-
-
-
-
-
-
-
-
-
2016

LS Cup R4

R4

UCD UCD
1
-
-
-
-
-
-
-
-
-
-
2015

LS Cup R4

R4

UCD UCD
1
-
-
-
-
-
-
-
-
-
-
League Cup
Season
Round
Team
Starts
Goals
Pens
MP
Assists
Subs
Sub On
Sub Off
Yellow
Red
MinP
2019

Lge Cup QF

QF

UCD UCD
1
-
-
-
-
-
-
-
1
-
-
2019

Lg Cup 2nd RD

2nd Round

UCD UCD
-
-
-
-
-
1
1
-
-
-
-
2018

LG Cup R2

R2

UCD UCD
1
1
-
-
-
-
-
-
-
-
-
2017

EA Cup R2

R2

UCD UCD
1
1
-
-
-
-
-
-
-
-
-
2016

EA Cup R1

R1

UCD UCD
1
-
-
-
-
-
-
-
-
-
-
2015

EA Cup R1

R1

UCD UCD
1
-
-
-
-
-
-
-
1
-
-
UEFA Champions League Qualifiers
Europa Conference League