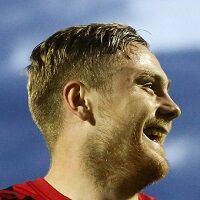 George Poynton
Midfield
Height
Age 25 years, 3 months
Place of Birth Dublin, Ireland
Nationality Ireland
Stats based on games populated in our system. They can be viewed below
George's Biography
George played with Dundalk's U19 side in 2013/14 and was named in Stephen Kenny's first team squad ahead of the 2014 Premier Division season. He made his senior debut as a late substitute in an EA Cup game against Bray Wanderers at the Carlisle Grounds on 5 May 2014 and made his first start for the club against Derry City, also in the EA Cup, on 27 May.

In 2015 George made his league debut, coming on in added time for Ronan Finn in a 2-0 win away to St Patrick's Athletic on 22 May. He made 2 league appearances that year with Dundalk winning the 2015 league title, and in 2016 he played in 4 league games when the Lilywhites again claimed the Premier Division title. He then went on loan to Bohs for the 2017 season.

In January 2017 George went on loan at Bohemians. He re-signed for Dundalk for the 2018 campaign.

In November 2018, George signed with St Patrick's Athletic. Then in February 2019, his contract was terminated by mutual consent and instead George signed with Waterford for the 2019 season.

In December 2020, Georgie re-signed with Shels for the 2021 season.


Career Facts
League of Ireland Premier Division
League of Ireland First Division
Season
Round
Team
Starts
Goals
Pens
MP
Assists
Subs
Sub On
Sub Off
Yellow
Red
MinP
2021

First

First Division

Shelbourne Shels
19
2
3
-
3
5
4
1
2
-
-
UEFA Champions League
Season
Round
Team
Starts
Goals
Pens
MP
Assists
Subs
Sub On
Sub Off
Yellow
Red
MinP
2016-2017

CL Playoff

Playoff

Dundalk Dundalk
-
-
-
-
-
1
-
-
-
-
-
2016-2017

CL Q3

Q3

Dundalk Dundalk
-
-
-
-
-
2
-
-
-
-
-
Presidents Cup
Season
Round
Team
Starts
Goals
Pens
MP
Assists
Subs
Sub On
Sub Off
Yellow
Red
MinP
2018

Pres Cup

Final

Dundalk Dundalk
1
-
-
-
-
-
-
-
-
-
-
Friendly
FAI Cup
Leinster Senior Cup
League Cup
National U19 League
Challenge Cup
Season
Round
Team
Starts
Goals
Pens
MP
Assists
Subs
Sub On
Sub Off
Yellow
Red
MinP
2019

Tunnock R4

R4

Waterford Waterford
1
-
-
-
-
-
-
-
-
-
-