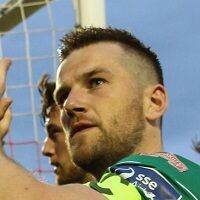 Steven Beattie
Midfield
Height 5' 11"
Age 33 years, 12 months
Place of Birth Skerries, Dublin
Nationality Ireland
Stats based on games populated in our system. They can be viewed below
Steven's Biography
Steven spent a year and a half playing in Iceland with UMF Tindastóll. Having signed in July 2012 he remained with the Icelandic side until the end of 2013. He returned to Ireland and played for Bohemians in their pre-season warm up games in February 2014. He scored a hat-trick in a friendly against Swords Celtic and earned himself a contract with Bohemians for the 2014 season

Steven played 29 times in the league for Bohemians in 2014, scoring two goals, against Cork City Sligo Rovers. He played in variety of positions too as Bohs finished eighth in the Premier Division. In 2015 Steven followed his former Bohs manager, Owen Heary, to Sligo Rovers where he scored on his debut against Cork City. He scored two goals in 14 league appearances for the Bit o' Red but left in July to sign for John Caulfield at Cork City. Steven went on to make 12 league appearances for Cork, scoring a further three goals, as Cork finished runners-up to Dundalk.

In 2016 Steven played in 29 of Cork's 33 league matches, scoring five times. He also earned an FAI Cup winner's medal as City defeated Dundalk 1-0 in the final at the Aviva Stadium.

Steven re-signed with Cork ahead of the 2018 campaign having already made over 60 appearances for the club since he first signed.

At the end of the season, Beattie opted to return to the States with USL League One side Chattanooga Red Wolves.

In January 2021, Steven signed for Cork ahead of the 2021 First Division season. Steven departed Cork at the end of the 2021 season.


Career Facts
League of Ireland Premier Division
Season
Round
Team
Starts
Goals
Pens
MP
Assists
Subs
Sub On
Sub Off
Yellow
Red
MinP
2018

Prem

Premier Division

Cork City Cork
12
-
-
-
-
10
6
1
3
1
-
2017

Prem

Premier Division

Cork City Cork
18
1
-
-
-
9
5
2
3
-
-
2016

Prem

Premier Division

Cork City Cork
26
5
-
-
-
4
3
4
6
1
-
2015

Prem

Premier Division

Sligo Rovers Sligo
14
2
-
-
-
-
-
1
3
-
-
2015

Prem

Premier Division

Cork City Cork
13
3
-
-
-
1
1
2
3
-
-
2014

Prem

Premier Division

Bohemians Bohs
26
2
-
-
-
3
3
1
6
1
-
League of Ireland First Division
Season
Round
Team
Starts
Goals
Pens
MP
Assists
Subs
Sub On
Sub Off
Yellow
Red
MinP
2021

First

First Division

Cork City Cork
9
-
-
-
1
7
-
1
2
-
-
Presidents Cup
Season
Round
Team
Starts
Goals
Pens
MP
Assists
Subs
Sub On
Sub Off
Yellow
Red
MinP
2018

Pres Cup

Final

Cork City Cork
-
-
-
-
-
1
1
-
-
-
-
2017

Pres Cup

Final

Cork City Cork
1
-
-
-
-
-
-
1
-
-
-
2016

Pres Cup

Final

Cork City Cork
-
-
-
-
-
1
1
-
-
-
-
Friendly
FAI Cup
Europa League
Season
Round
Team
Starts
Goals
Pens
MP
Assists
Subs
Sub On
Sub Off
Yellow
Red
MinP
2018-2019

EL QR3

QR3

Cork City Cork
2
-
-
-
-
-
-
-
-
-
-
2017-2018

EL QR2

QR2

Cork City Cork
2
-
-
-
-
-
-
-
1
-
-
2017-2018

EL QR1

QR1

Cork City Cork
-
1
-
-
-
2
2
-
1
-
-
2016-2017

EL QR3

QR3

Cork City Cork
2
-
-
-
-
-
-
1
-
-
-
2016-2017

EL QR2

QR2

Cork City Cork
2
-
-
-
-
-
1
1
1
-
-
2016-2017

EL QR1

QR1

Cork City Cork
2
-
-
-
-
-
-
-
1
-
-
Leinster Senior Cup
Season
Round
Team
Starts
Goals
Pens
MP
Assists
Subs
Sub On
Sub Off
Yellow
Red
MinP
2014

LS Cup R4

R4

Bohemians Bohs
1
1
-
-
-
-
-
-
-
-
-
Munster Senior Cup
Season
Round
Team
Starts
Goals
Pens
MP
Assists
Subs
Sub On
Sub Off
Yellow
Red
MinP
2018

MSC SF

SF

Cork City Cork
-
-
-
-
-
1
-
-
-
-
-
2017

MS Cup Final

Final

Cork City Cork
1
-
-
-
-
-
-
-
-
-
-
2017

MS Cup SF

SF

Cork City Cork
-
-
-
-
-
1
1
-
-
-
-
2017

MS Cup QF

QF

Cork City Cork
-
-
-
-
-
1
-
-
-
-
-
2016

MS Cup QF

QF

Cork City Cork
1
-
-
-
-
-
-
-
-
-
-
League Cup
UEFA Champions League Qualifiers
Season
Round
Team
Starts
Goals
Pens
MP
Assists
Subs
Sub On
Sub Off
Yellow
Red
MinP
2018-2019

CL QR1

QR1

Cork City Cork
1
-
-
-
-
1
1
1
-
-
-