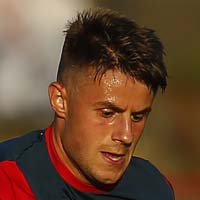 Regan Donelon
Defender
Height
Age 26 years, 4 months
Place of Birth
Nationality Ireland
Stats based on games populated in our system. They can be viewed below
Regan's Biography
Regan was part of the Sligo Rovers U19 squad for the 2013/2014 season and was named in Ian Baraclough's first team squad ahead of the 2014 Premier Division season. He made his debut as a substitute in the EA Cup defeat to Derry City on 5 May 2014 and got his first league start under new manager John Coleman in the 2-0 win over Limerick FC on 27 July. He finished the season with 8 league appearances for Sligo in the 2014 Premier Division campaign.

Regan joined Finn Harps on loan in February 2015, with the deal lasting until June 2015. He made 10 league appearances there before returning to Sligo after his loan deal expired. He went on to make 13 league appearances for the Bit O'Red as Sligo finished ninth in the Premier 2015 Division. He had his best season to date in 2016 under new manager Dave Robertson and made 20 league appearances as Sligo finished fifth in the Premier Division.

In October 2016 Regan signed a new two-year deal at Sligo Rovers and he continued to play with the Bit o' Red for the next five seasons, leaving the club in January 2022 to join Finn Harps.


Career Facts
League of Ireland Premier Division
League of Ireland First Division
Season
Round
Team
Starts
Goals
Pens
MP
Assists
Subs
Sub On
Sub Off
Yellow
Red
MinP
2015

First

First Division

Finn Harps Harps
4
-
-
-
-
10
6
1
-
-
-
Friendly
Setanta Sports Cup
Season
Round
Team
Starts
Goals
Pens
MP
Assists
Subs
Sub On
Sub Off
Yellow
Red
MinP
2014

SETA SF

SF

Sligo Rovers Sligo
-
-
-
-
-
1
-
-
-
-
-
FAI Cup
Europa League
Season
Round
Team
Starts
Goals
Pens
MP
Assists
Subs
Sub On
Sub Off
Yellow
Red
MinP
2014-2015

EL QR2

QR2

Sligo Rovers Sligo
-
-
-
-
-
2
-
-
-
-
-
League Cup
Challenge Cup
Season
Round
Team
Starts
Goals
Pens
MP
Assists
Subs
Sub On
Sub Off
Yellow
Red
MinP
2018-2019

IRN-BRU R3

R3

Sligo Rovers Sligo
1
-
-
-
-
-
-
-
-
-
-
Europa Conference League
Season
Round
Team
Starts
Goals
Pens
MP
Assists
Subs
Sub On
Sub Off
Yellow
Red
MinP
2021-2022

ECL 1QR

1QR

Sligo Rovers Sligo
1
-
-
-
-
1
-
1
1
-
-