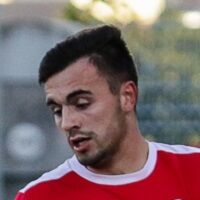 Mark Timlin
Midfield
Height 1.75m
Age 27 years, 9 months
Place of Birth Letterkenny, Donegal
Nationality Ireland
Stats based on games populated in our system. They can be viewed below
Mark's Biography
Mark is a midfielder who played with Ipswich Town in their 2013 summer tour of Ireland but left the club in March 2014 without making a first team appearance. He joined Derry City under manager Roddy Collins just prior to the start of the 2014 season. Injuries ruled him out for the start of the season but he returned to make eighteen league appearances for Derry, scoring once in a 2-1 defeat to Bohemians, as they finished eighth in the league.

Mark stayed with Derry for the 2015 season and had a breakthrough year as he scored ten times in twenty-eight league games as Derry finished seventh in the Premier Division. In November 2015, Mark moved to St. Patrick's Athletic. Timlin went onto score 8 times in the League and 11 goals overall while he made 36 appearances in all competitions.

In December 2016 it was announced that Mark had returned to Derry and signed the 2017 season. After coming off the bench 8 times and making just three starts during the first half of the 2017 season Mark moved to Finn Harps at the end of July in 2017. In December 2017, Mark re-signed with Harps for the 2018 First Division season. Mark then re-signed with Harps for the 2019 campaign.

In December 2019, Mark re-signed with Harps for the 2020 season. Mark signed back with Harps once again for 2021.


Career Facts
League of Ireland Premier Division
League of Ireland First Division
Season
Round
Team
Starts
Goals
Pens
MP
Assists
Subs
Sub On
Sub Off
Yellow
Red
MinP
2018

First

First Division

Finn Harps Harps
17
2
-
-
-
4
1
1
2
-
-
Friendly
FAI Cup
Europa League
League Cup
2018 Promotion/Relegation Play-off Series
Season
Round
Team
Starts
Goals
Pens
MP
Assists
Subs
Sub On
Sub Off
Yellow
Red
MinP
2019

PO Final

Final

Finn Harps Harps
1
-
-
-
-
-
-
-
-
-
-
2018

PO Final

Final

Finn Harps Harps
1
1
-
-
-
-
-
1
-
-
-
2018

PO Semi Final

Semi Final

Finn Harps Harps
2
-
-
-
-
-
-
1
-
-
-