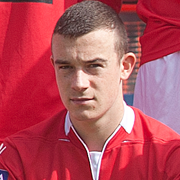 Dylan Cashin
Midfield
Height
Age 27 years, 1 month
Place of Birth
Nationality Ireland
Stats based on games populated in our system. They can be viewed below
Dylan's Biography
Profile headshot image courtesy of Peter Fitzpatrick

Dylan is a midfielder who played for Shelbourne's U19 squad in 2012/2013. He re-signed for the U19s for 2013/14 as well as being included in Shelbourne's first team squad in November 2013. He made his senior debut for the Reds in a Leinster Senior Cup tie against UCD on 18 March 2014 and his league bow came two months later against Shamrock Rovers B on 16 May. He made 7 league appearances in his debut season and scored one goal in a 2-2 draw with Cobh Ramblers.

Dylan moved to Malahide United in October 2014.


Career Facts
League of Ireland First Division
Season
Round
Team
Starts
Goals
Pens
MP
Assists
Subs
Sub On
Sub Off
Yellow
Red
MinP
2014

First

First Division

Shelbourne Shels
3
1
-
-
-
8
4
1
2
-
-
Friendly
FAI Cup
Leinster Senior Cup
Season
Round
Team
Starts
Goals
Pens
MP
Assists
Subs
Sub On
Sub Off
Yellow
Red
MinP
2017

LS Cup R4

R4

Malahide United Malahide
1
-
-
-
-
-
-
-
-
-
-
2014

LS Cup R4

R4

Shelbourne Shels
1
1
-
-
-
-
-
-
-
-
-
U19 Cup
Season
Round
Team
Starts
Goals
Pens
MP
Assists
Subs
Sub On
Sub Off
Yellow
Red
MinP
2012-2013

U19 Cup

U19 Cup

Shelbourne U19 SHELS U19
1
-
-
-
-
-
-
-
-
-
-
League Cup
Season
Round
Team
Starts
Goals
Pens
MP
Assists
Subs
Sub On
Sub Off
Yellow
Red
MinP
2014

EA Cup R1

R1

Shelbourne Shels
-
-
-
-
-
-
1
-
-
-
-
National U19 League
Season
Round
Team
Starts
Goals
Pens
MP
Assists
Subs
Sub On
Sub Off
Yellow
Red
MinP
2013-2014

U19 Elite

Elite

Shelbourne U19 SHELS U19
1
-
-
-
-
-
-
-
-
-
-
Intermediate Cup