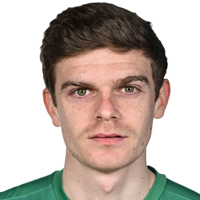 Sean Gannon
Defender
Height 183 cm
Age 31 years, 4 months
Place of Birth Ringsend, Ireland
Nationality Ireland
Stats based on games populated in our system. They can be viewed below
Sean's Biography
Sean signed for Shamrock Rovers from St Kevin's Boys in the summer of 2010 and played in the club's U20 title winning side. He made his senior debut for Rovers coming on as a half time substitute for Craig Sives in the Leinster Senior Cup game away to Dundalk in February 2011. Sean's league debut did not come until 12 September when he started in a 1-1 draw with St Patrick's Athletic, his only league appearance of the 2011 season.

In 2012 Sean moved closer to the Shamrock Rovers first team, making 8 league appearances and also playing in 7 cup games. He was also part of the Rovers team that won the Leinster Senior Cup and scored three times for the club in cup competition. However, at the end of the season he was not kept on by new manager Trevor Croly and he signed for Liam Buckley at St Patrick's Ath on 27 November 2012.

Sean played 13 league games for St Patrick's Athletic as they went on to win the 2013 Airtricity League title but at the season's end he was on the move again, this time linking back up with his former Shamrock Rovers manager Stephen Kenny at Dundalk on 6 November 2013.

Sean became a major part of a Dundalk defence that kept sixteen clean sheets in the 2014 Premier Division. He played in all 33 league games, scoring two goals, as Dundalk won the league title on the last day of the season. Another league title followed in 2015 and Sean made 32 league appearances this time around. He also picked up an FAI Cup winners medal as the Lilywhites defeated Cork City in the final. And in 2016 Sean made it four league titles in a row (Dundalk's third), making another 26 league appearances along the way. Sean also played in all 12 European games that saw Dundalk make it to the group stage of the Europa League. In 2017 Sean netted twice while appearing in a total of 38 games for the Lilywhites. In November 2017, Sean signed a new three year deal with the club to keep him at Oriel Park until the end of the 2020 season.

In December 2020, Sean signed for reigning League Champions Shamrock Rovers.


Career Facts
League of Ireland Premier Division
UEFA Champions League
Season
Round
Team
Starts
Goals
Pens
MP
Assists
Subs
Sub On
Sub Off
Yellow
Red
MinP
2020-2021

CL QR1

1st Q Rd

Dundalk Dundalk
1
-
-
-
-
-
-
-
1
-
-
2016-2017

CL Playoff

Playoff

Dundalk Dundalk
2
-
-
-
-
-
-
-
-
-
-
2016-2017

CL Q3

Q3

Dundalk Dundalk
2
-
-
-
-
-
-
-
-
-
-
2016-2017

CL Q2

Q2

Dundalk Dundalk
2
-
-
-
-
-
-
-
-
-
-
2015-2016

CL Q2

Q2

Dundalk Dundalk
2
-
-
-
-
-
-
-
-
-
-
Presidents Cup
Friendly
Setanta Sports Cup
FAI Cup
Europa League
Leinster Senior Cup
League Cup
UEFA Champions League Qualifiers
Unite the Union Champions Cup
Season
Round
Team
Starts
Goals
Pens
MP
Assists
Subs
Sub On
Sub Off
Yellow
Red
MinP
2019

UTU

Final

Dundalk Dundalk
1
-
-
-
-
1
1
-
-
-
-
Europa Conference League