2022 League of Ireland Playoff Round 1
16.00 Oct. 30, 2022 - Eamonn Deacy Park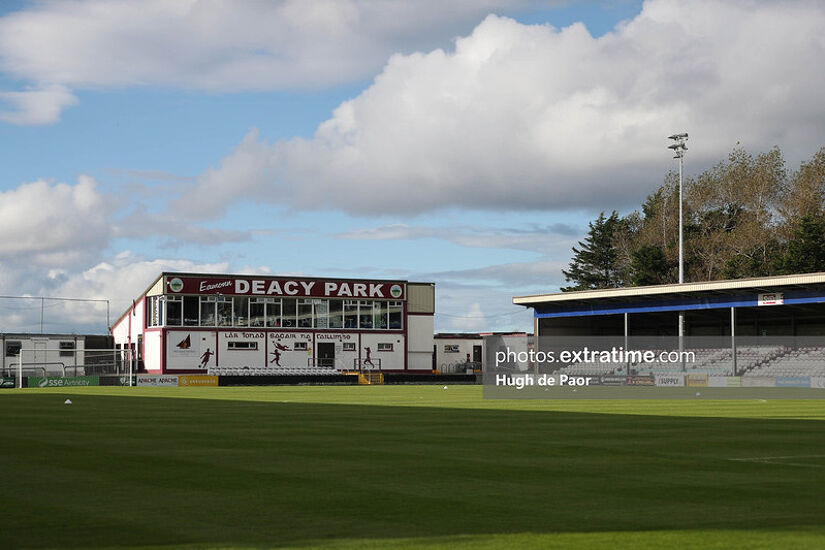 Promotion Playoff Preview: Galway United -v- Longford Town
Sat, Oct 29 2022




GALWAY UNITED

Galway Untied will be looking to secure their place in the next round of the promotion playoffs with a win over Longford Town on Sunday evening (kick-off 4pm).

The sides played out a 2-2 draw in the first leg of this fixture on Wednesday nights at Bishopsgate with the Tribesmen needing to come from behind twice to have them on equal footing coming into Sunday's game.

Mikie Rowe came into the fray at half time and provided the goals for John Caulfield's side, he came off the bench to replace Ed McCarthy at half-time when the midfielder went off injured.

Of concern for Galway is that their form is still dreadful, they've now gone five games without a win, and they have just one win in their last ten games.

A large crowd is expected at Eamonn Deacy Park where this time last year they were dumped out of the playoffs by Bray Wanderers.

LONGFORD TOWN

Gary Cronin will be pleased to be on level footing with Galway coming into Sunday's second leg although he will be sightly disappointed that his side could not hold onto a lead when they went in front twice during Wednesday night's game.

Former Galway United player Jordan Adeyemo was on hand to punish his previous club with the striker adding to his impressive tally since joining De Town midseason and scoring twice.

Longford will be hoping they can continue their good run of form against Galway United specifically with the side only losing once to the Tribesmen in five meetings this season, De Town have beaten them twice and drawn twice.

They will have to defend better if they want to progress however, especially if they can get their noses in front.

Despite Galway's poor form of late and the fact they haven't scored heaps of goals they have still managed to score five times against Longford in just a few days with the sides also meeting on the last day of the season.

Referee: Damien MacGraith

MATCH STATS

This will be the sixth meeting between Galway United and Longford Town this season, De Town have won twice, the side have drawn twice with Galway winning once so far.

There have been ten goals scored in the last two games between the sides with Galway and Longford playing out a 3-3 draw on Friday, 21 October before their 2-2 draw in the first leg of their playoff.

De Town and Galway met in the playoffs in 2020 – Longford ended Galway United's season on that occasion with a victory. They went on to win promotion to the Premier Division.

PREDICTION

Galway United 2–1 Longford Town

Galway United

Injured: None.

Doubtful: Ed McCarthy.

Suspended: None.

Longford Town

Injured: None.

Doubtful: None.

Suspended: None.
Paul Corcoran is a lifelong Galway United fan he studied journalism in college and has written for a number of different publications both online and print. He joined the Extratime team in 2016 and began …
| | Team | P | W | D | L | Pts |
| --- | --- | --- | --- | --- | --- | --- |
| 1 | SHE | 27 | 19 | 3 | 5 | 60 |
| 2 | ATH | 27 | 18 | 4 | 5 | 58 |
| 3 | PEA | 26 | 17 | 5 | 4 | 56 |
| 4 | WEX | 27 | 17 | 5 | 5 | 56 |
| 5 | DLR | 27 | 11 | 7 | 9 | 40 |
| 6 | GAL | 27 | 11 | 6 | 10 | 39 |
| 7 | BOH | 27 | 10 | 6 | 11 | 36 |
| 8 | COR | 27 | 6 | 0 | 21 | 18 |
| 9 | SLI | 26 | 5 | 2 | 19 | 17 |
| 10 | TRE | 27 | 0 | 2 | 25 | 2 |
Be Social