2022 League of Ireland First Division
7:45 p.m. May 27, 2022 -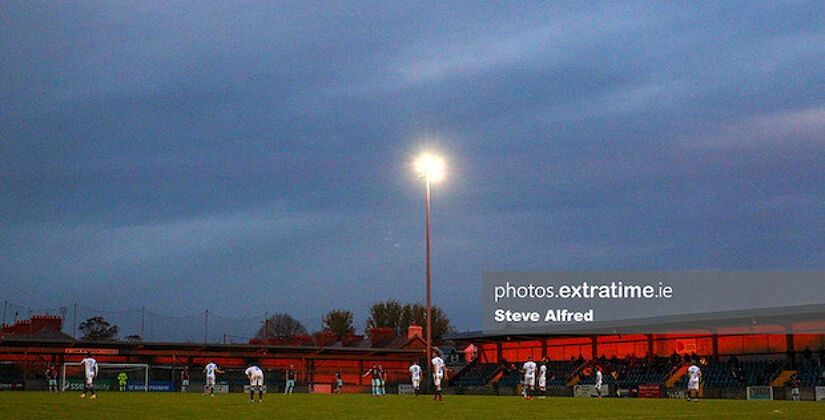 League Preview: Cobh Ramblers -v- Longford Town
Thu, May 26 2022




COBH RAMBLERS

The Rams come into Friday night's meeting with Longford Town at St Colman's Park (kick-off 7.45 pm) as distinct underdogs having lost ten of their fifteen league matches this season and having failed to win any of their last five.

Darren Murphy's team have won just twice this year, and both of those wins came against Athlone Town, the only team below Ramblers in the 2022 First division table. They have, however, also managed three draws, bumping their points total from six to nine and two of those draws have come in their last four matches.

A 1-1 draw at the Carlisle Grounds in Bray at the tail end of April was followed by defeats to Galway United and Waterford, but last weekend they hammered out a creditable 2-2 draw with Treaty United at the Markets Field.

The Cobh faithful will be painfully aware that their team have taken just four points at home this season, losing five of their seven matches at the hilltop venue. Furthermore, they have failed to score in four of those home games.

That said, when Cobh do score, they tend to bang in a few and their total of 17 goals scored is just one less than Friday's opponents, Longford, who lie four places and 16 points above them in the table.

With 12 goals from their last seven outings, it could be argued that Cobh's real problem is not up front but at the back. After fifteen matches the Rams have kept just one clean sheet and that was back in early March, in their second game of the year, a scoreless draw with Treaty United.

That makes it thirteen games on the spin in which Cobh have conceded. Chuck in the fact that they have conceded more than twice in six of their fifteen games and it's not hard to see why Cobh are struggling this season.

But woven into these statistics is a silver thread, because Cobh are a team with great heart. They work hard, always, and if you go down to watch them play you are highly likely to see a lot of goals. They'll concede some, for sure, but they can also put them away.

If you'll forgive another moment of number crunching, it's worth bearing in mind that in their last nine matches there have only been two occasions when the spectators have seen less than four goals. As far as value for money goes you could do worse than spend your Friday evenings on the Island.

LONGFORD TOWN

Longford would have been one of the teams expected to challenge for promotion when the First Division season started, and they might yet. But their season so far has been an uneven mixture of good and bad which has jolted the confidence of those who saw good things ahead back in February.

Having started with a scoreless draw against a Cork City team that had put six past Bray the previous weekend, Longford then proceeded to lose to that same Bray side the following week. If this is confusing to you then spare a thought for the club's fans who have seen their team defy expectations with dizzying regularity.

There followed a seven game spell when the Town won five times and drew twice, going unbeaten from St Patrick's Day, through the Easter weekend, and up until the last Friday in April.

The confidence gathered during this period received a double blow with defeats to Cork and Galway over the May Bank Holiday weekend. But if hopes had been dashed, they were soon reignited with 2-1 wins over Wexford and Athlone.

No doubt feeling reinvigorated, Longford fans then had to endure a scoreless draw with Treaty United and finally, last weekend, a morale sapping capitulation against Waterford in their own back yard - a 3-0 defeat that was so much harder to take for the fact that it was a product of some horrendous errors.

So what lies ahead? Well, in terms of the unpredictable, they are well matched this weekend against a Cobh side that might score three, or concede four, or both. Though having floated the prospect of some excitement it would be entirely in keeping with Longford's season for it to end nil-nil.

Referee: Kevin O'Sullivan

MATCH STATS

In their previous meeting this season Longford beat Cobh 2-0 at Bishopsgate, with Darren Craven and Eric Molloy scoring for the Midlanders.

Cobh Ramblers' top-scorer this season is Beineon O'Brien Whitmarsh with six, a third of Cobh's total goals in 2022. Longford's top-scorers are Sam Verdon and Darren Craven who both have four.

Cobh first played Longford in a League match on the 27th October 1985 at Abbeycartron in Longford. A single Martin Smyth goal decided the game in Longford's favour.

PREDICTION

Cobh Ramblers 2-3 Longford Town

Cobh Ramblers

Injured: Unavailable.

Doubtful: Unavailable.

Suspended: Daragh O'Sullivan.

Longford Town

Injured: Darren Craven (acl).

Doubtful: Sam Verdon, Ryan Gradon.

Suspended: None.

Simon O'Gorman began reporting for Extratime in 2010. He remembers Milltown and Flower Lodge and, back in the mists of time, saw Diego Maradona play at Lansdowne Road. He now lives in Co Kildare and …
| | Team | P | W | D | L | Pts |
| --- | --- | --- | --- | --- | --- | --- |
| 1 | Cork | 25 | 17 | 6 | 2 | 57 |
| 2 | Galway | 25 | 16 | 5 | 4 | 53 |
| 3 | Waterford | 25 | 15 | 3 | 7 | 48 |
| 4 | Longford | 25 | 12 | 6 | 7 | 42 |
| 5 | Treaty United | 25 | 9 | 9 | 7 | 36 |
| 6 | Wexford | 25 | 8 | 8 | 9 | 32 |
| 7 | Bray | 25 | 4 | 9 | 12 | 21 |
| 8 | Cobh | 25 | 3 | 4 | 18 | 13 |
| 9 | Athlone | 24 | 2 | 2 | 20 | 8 |