2023 League of Ireland First Division
19.45 May 5, 2023 -
Referee: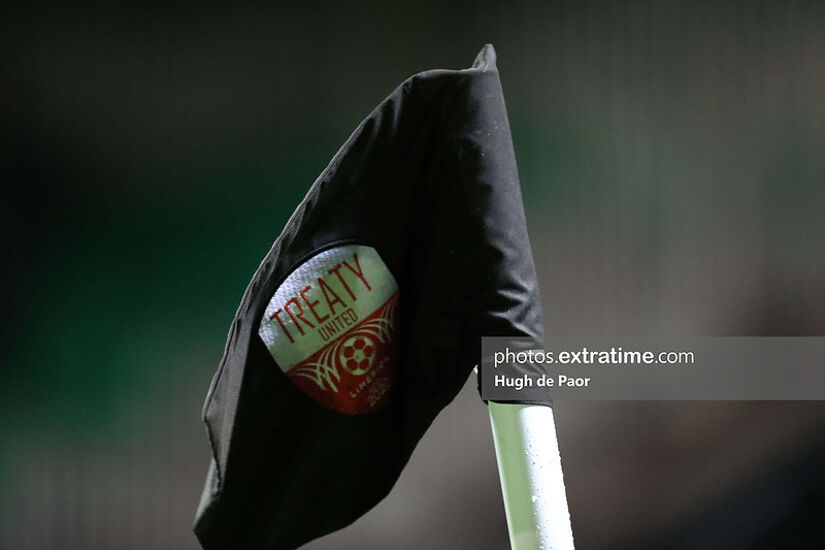 League Report: Treaty United 2 - 1 Athlone Town
Fri, May 05 2023




Michael Cooke reports from the Markets Field

A two-goal salvo in the last quarter saw Treaty United come from behind to defeat Athlone Town 2-1 at the Markets Field.

The hosts have now extended their winning streak to three matches, while Athlone failed to achieve the same feat.

The game's first chance fell to Athlone six minutes in. Valerii Dolia collected Jamar Campion-Hinds' cross inside the box but skied his effort over the crossbar.

Three minutes later, Treaty's Stephen Christopher connected with Conor Barry's right-wing cross but couldn't direct his header on target.

Treaty had another chance at the 16-minute mark. Lee Devitt's 25-yard free-kick was easily dealt with by Athlone goalkeeper Vladi Velikin.

The visitors took the lead 13 minutes later when Frantz Pierrot made a clever run behind Ben O'Riordan, collected Dolia's pass, and fired low into the net.

Pierrot could have added a second goal on 35 minutes. He connected with Campion-Hinds' right-wing cross, but his header went wide.

Two minutes later, Treaty's Conor Barry found a pocket of space 25 yards out but missed the target with his subsequent shot.

Athlone held onto their 1-0 lead at the break, but Treaty came close 11 minutes after the restart. Enda Curran connected with Lee Devitt's right-wing cross, but his header was easily dealt with by Velikin.

Athlone could have doubled their lead on 59 minutes when Campion-Hinds connected with Dolia's right-wing cross before his volleyed effort sailed narrowly over the crossbar.

Treaty almost drew level at the hour mark when Conor Barry teed up Alec Byrne, whose effort came crashing off the underside of the crossbar.

The hosts eventually equalized in the 78th minute, following excellent pressing from Enda Curran. The Treaty striker closed down Velikin, whose attempted clearance was deflected into the path of Lee Devitt, who calmly fired home.

Marc Ludden, who ended a lengthy spell on the sidelines due to injury tonight, marked his return in style eight minutes from time.

Slick interplay between Curran, Barry, and Ludden culminated in the latter firing low into the bottom corner for what transpired to be the winning goal.

Fellow substitutes Willie Armshaw and George both missed chances thereafter, but it didn't prove detrimental for the hosts.

Treaty United: Shane Hallahan; Lee Devitt Molloy, Darren Nwankwo, Ben O'Riordan, Andy Spain; Conor Barry, Alec Byrne, Stephen Christopher (William Armshaw 70), Colin Conroy (Marc Ludden 70); Enda Curran, Dean George.
Subs not used: Joshua Coady, Robbie Lynch, Scott Kirkland, Colin Kelly, Niko Kozlowski, Mark Murphy.
Booked: Darren Nwankwo (90).
Sent off: None.

Athlone Town: Vladislav Velikin; Haji Abdikadir (Aaron McBride 90), Jack Kavanagh (Blake Ryan 90), German Rodriguez, Noah van Geenan; Jamar Campion-Hinds (Oisin Duffy 70), Aaron Connolly (Matthew McCarrick 90), Valerij Dolia, Patrick Hickey, Matthew Leal (Adam Lennon 64); Frantz Pierrot.
Subs not used: Reuben Egan, Donal Curtin, Matthew Baker, Charles Mutawe.
Booked: Noah van Geenan (16) Matthew Leal (2nd half)
Sent off: None.

Referee: Oliver Moran
extratime.com Player of the Match: Conor Barry

Michael Cooke has yet to write anything about themselves but click on the bio link to view all past work.
| P | Team | Pd | W | D | L | Pts |
| --- | --- | --- | --- | --- | --- | --- |
| 1 | Galway | 16 | 15 | 0 | 1 | 45 |
| 2 | Waterford | 16 | 10 | 3 | 3 | 33 |
| 3 | Bray | 16 | 6 | 6 | 4 | 24 |
| 4 | Cobh | 16 | 6 | 5 | 5 | 23 |
| 5 | Athlone | 16 | 6 | 2 | 8 | 20 |
| 6 | Treaty United | 16 | 5 | 4 | 7 | 19 |
| 7 | Longford | 16 | 4 | 6 | 6 | 18 |
| 8 | Wexford | 16 | 5 | 3 | 8 | 18 |
| 9 | Harps | 16 | 4 | 5 | 7 | 17 |
| 10 | Kerry | 16 | 1 | 2 | 13 | 5 |
Be Social