2018 League of Ireland Premier Division
19.45 Oct. 26, 2018 -
Referee: Sean Grant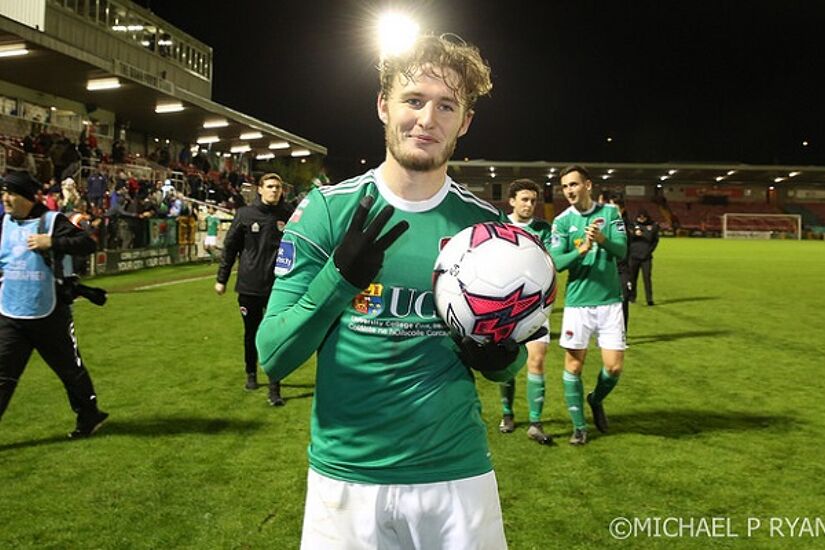 League Report: Cork City 5 - 1 Bray Wanderers
Sat, Oct 27 2018




Dylan O'Connell reports from Turner's Cross

Cork City saw out the 2018 league season with an empathic 5 -1 rout of Bray Wanderers at Turner's Cross on Friday.

A hat-trick from Kieran Sadlier combined with goals from Barry McNamee and Gearoid Morrissey saw City to an easy victory, though Sean Harding pulled one back for Bray.

Bray came to Cork relegated but resurgent following Monday's 2-1 win over Derry at the Carlisle Grounds.

Searching for their first point at the Cross since 2014 and a first win since 2013, it was always going to be an uphill task in a ground where City only lost twice domestically all year.

City were regenerated and focused after a difficult season that saw them relinquish their title to Dundalk.

They couldn't afford to dwell on it though, as the Rebel Army have to focus on next Sunday's Irish Daily Mail FAI Cup final with 'New Firm' rivals Dundalk.

City made six changes from their 3-0 win over Derry last weekend in what was a fully experienced side ahead of next weekend's dress rehearsal at the Aviva Stadium.

They produced one of their most dominant displays in recent memory at the Cross, building a first half 4-0 lead, the biggest margin recorded by City in a first half under John Caulfield.

This command began from the whistle, as Kieran Sadlier flicked on for Gary Buckley to square it into the area, but a frantic Kevin Lynch cleared it for a corner.

Again Sadlier swung it in as the ball dropped to Alan Bennett's head, but the former Irish international's header was inches wide of the post.

Through City's play, Bray where forced to drop to five-at-the-back to soak up the pressure, as John Sullivan dropped back to help the defense and give the cover needed for Sadlier's runs.

Despite this makeshift backline, City could have made it 1-0 as Garry Buckley parted the Bray line to set Graham Cummins in but Evan Moran cleared it out of play.

City had another golden opportunity as a cutting Steven Beattie had shot bounce off the post. Cummins was next following a ball from a Sadlier, but Heaney cleared off the line.

Barry McNamee crossed deep into the area, as a rising Kieran Sadler bowed the ball passed Moran to give City a 1-0 lead after twenty minutes.

For all City's domination, Bray were not without their chances. A free kick from Harding met Lynch at the far post into the Shed End, but Mark McNulty dived to gather.

As McNulty released the ball, it was a single moment of brilliance from Shane Griffin to make it 2-0.

Running through the centre, the left back force a loose clearance by Lynch in the centre, and it was volleyed in low and into the right side by Morrissey.

Sadlier got his second of the evening ten minutes before the break as he blasted a low shot past the dive of Moran and into the bottom right corner to make it 3-0.

City closed out the half through Barry McNamee, who ran onto a weak clearance from Moran and flicked it into the top corner and give the hosts a 4-0 lead at the break.

Sadlier completed his hat-trick after the restart as he met a square ball from Barry McNamee and volleyed into the top corner and give City their fifth of the evening.

Bray did get one back, as Jake Ellis ran onto chipped through ball from Ger Pender to shoot across goal away from McNulty to give the traveling support a gleeful moment.

City responded by freshening their lines through the introductions of Conor McCarthy and Aaron Barry.

City's wide play from Sadlier and McNamee left space for darting runs by Cian Murphy, and only the woodwork denIed a header from Cummins from extending the lead.

City's experience and energy saw it through 5-1 at the Cross leaving the Rebel Army with a best ever points tally for 2018.

All roads now lead to Lansdowne Road for City and a date with destiny with Dundalk, while Bray turn their focus to the 2019 First Division.

Cork City: Mark McNulty; Shane Griffin, Alan Bennett, Sean McLaughlin, Steven Beattie (Conor McCarthy 57), Gearoid Morrissey (Aaron Barry 55), Conor McCormack, Kieran Sadlier, Gary Buckley (Cian Murphy 45), Graham Cummins.

Subs not used: Peter Cherrie (gk), Jimmy Keohane, Damien Delaney, Ronan Coughlan.

Booked: None.

Bray Wanderers: Evan Moran; Kevin Lynch, Conor Kenna, Sean Heaney, Paul O'Conor, John Sullivan, Ger Pender, Jake Ellis (Jake Kelly 70), Cian Walsh, Sean Harding (Cian Maher 75), Darragh Noone (Rhys Gorman 86).

Subs not used: Mark O'Connor (gk), Dylan Hayes, Jamie Crilly, Darragh Gibbons.

Booked: None.

Referee: Sean Grant.

Attendance: 3,142.

Extratime.ie Player of the Match: Kieran Sadlier (Cork City).
Dylan is a freelance journalist based in Cork. He joined Extratime in 2016 and he covers games all across Ireland. His bylines include The Echo, Irish Independent, Irish Examiner, The 42, RTÉ Sport, and Irish …
| P | Team | Pd | W | D | L | Pts |
| --- | --- | --- | --- | --- | --- | --- |
| 1 | Dundalk | 36 | 27 | 6 | 3 | 87 |
| 2 | Cork | 36 | 24 | 5 | 7 | 77 |
| 3 | Shamrock R | 36 | 18 | 8 | 10 | 62 |
| 4 | Waterford | 36 | 18 | 5 | 13 | 59 |
| 5 | St Patrick's Athl. | 36 | 15 | 5 | 16 | 50 |
| 6 | Bohs | 36 | 13 | 9 | 14 | 48 |
| 7 | Sligo | 36 | 12 | 6 | 18 | 42 |
| 8 | Derry | 36 | 13 | 3 | 20 | 42 |
| 9 | Limerick | 36 | 7 | 6 | 23 | 27 |
| 10 | Bray | 36 | 5 | 3 | 28 | 18 |
Be Social