2015 League of Ireland Premier Division
19.45 Oct. 30, 2015 -
Referee: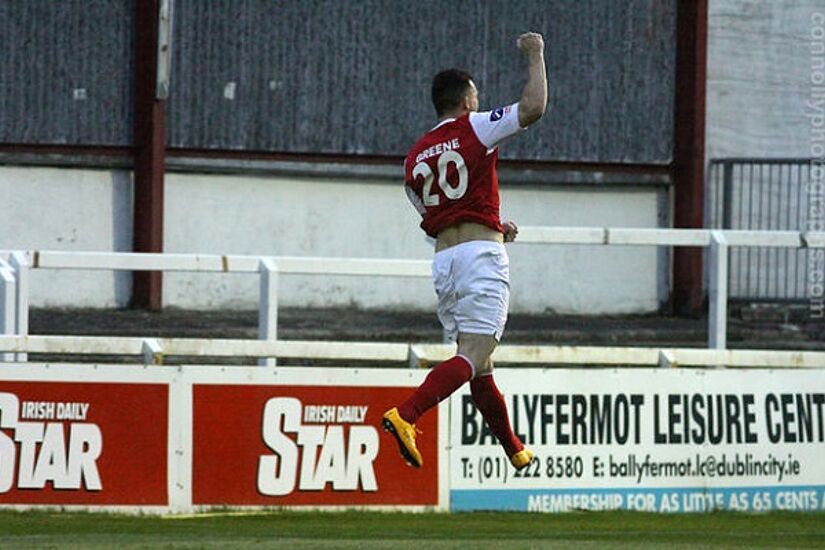 League Report: Galway United 0 - 1 St Patrick's Athletic
Fri, Oct 30 2015




As it transpired both sides got what they needed from this game - Pat's into Europe and Galway achieved Premier Division survival - but it was a pretty un remarkable game apart form that.

Both teams looked nervous at the start, with a number of errors early on.

After five minutes, Keegan put pressure on the Pats defence, but Hoare managed to clear for a corner, and O'Malley punched the inswinger clear.

Almost immediately Fagan had a chance which Winn blocked at his near post and the Galway keeper punched the resultant corner clear.

There was a let off for United on 7 minutes when a offside decision, saved them as the ball looked on its way to the net

At this point St Pats were threatening, it was an anxious time for Galway under sustained pressure, but they survived. Kenny Brown came closest for the visitors when he headed Byrne's corner wide.

Killian Brennan's free from wide right on eleven minutes, swung right in but was well gathered by Winn, who slightly injured himself in the process.

Galway threatened after 17 minutes through Shanahan as he skipped by Bermingham, but his cross was blocked for a corner, with Sean Hoare easily heading Connolly's corner kick clear.

Two minutes later St Pat's right back Ger O'Brien, cracked a forty yarder just over the bar.

Pat's looked dangerous when they broke and another corner after 25 minutes was cleared under duress, leading for another, but Brennan's second effort was well over hit and the danger was averted.

Galway were really riding their luck as the half hour clocked up, but it looked like Pat's could take over at any point, with the home side struggling to get out of their own half.

Entering the last ten minutes of the half it was all Pat's, with Galway only managing the odd foray into enemy territory. At this point it was hard to grasp that the visitors were not ahead. It was only after forty minuets that United put together a passing movement, down the left, with Ludden and Melody prominent.

Two minutes from the break Ludden broke down the left, past several Pat's players but his cross came to nothing.

Greene scored on the stroke of half time when Ludden gave the ball away. Byrne knocked it in and Greene was on hand to score!

While conceding a soft goal in the closing minute was the source of some frustration to the Galway faithful, the reality was - they were lucky to be just one goal behind at the break.

Galway replaced Sam Oji with Enda Curran at the break, with Cormac Raftery reverting to centre back and Curran moving up alongside Keegan.

Nine minutes into the half Fagan was the catalyst as Pat's pour forward - Galway conceded the corner and Greene powered a header well wide form Brennan's corner.

The introduction of Enda Curran did bring some much needed muscle and urgency to the Galway side as Pat's folded back into their own half content to hold onto their lead.

Conor Winn came to Galway's rescue on 64 minutes when he made a great save for Christy Fagan, getting down sharply, after Greene had set up his strike partner.

Three minutes later, Greene whipped in a cross and Walsh got his head to it to concede a corner, and while Brennan's corner was partially cleared, Shanahan conceded a free just outside the box and Brennan chipped it just over the bar.

Keegan had a half chance for Galway on 71 minutes, after Curran pushed a lovely ball through, however Kenny Browne showed great composure to clear.

As we entered the last 15 minutes here, it became more and more turgid, as the scores from other venues trickled through. - in an isolated incident O'Malley got down smartly to deprive a marauding Ryan Connolly.

There was a perceptible groan from the crowd when the fourth official signalled four extra minutes.

Keegan brought a gasp in the final minute when he pulled a shot over the bar, but in fairness, it would have given the home side a draw they would have scarcely deserved - with that the season drew to a close.

Galway United: Conor Winn, (Horgan, 88) Colm Horgan, Sam Oji, (Curran, 45) Stephen Walsh, Marc Ludden, Cormac Shanahan, Paul Sinnott, Ryan Connolly, Conor Melody, (Saarelma, 84) Jake Keegan

Subs Not Used: Ger Hanley (GK), Enda Curran, Jason Molloy, Kevin Horgan, Andy O'Connell, Conor Barry

St Patricks Athletic: Conor O'Malley, Ger O'Brien, Ian Bermingham, Sean Hoare, Conan Byrne, Christy Fagan (Morgan Langley 83), Killian Brennan (Ian Morris 85), James Chambers, Kenny Browne, Jamie McGrath, Aaron Greene.

Subs Not Used: Lee Desmond, Sam Verdon, Shane McEleney, Pat Jennings, Jack Bayly.

Referee: Padraigh Sutton.

Attendance: 1,231.

Extratime.ie Man of the Match: Kenny Browne (St Pats).

Pete is based in Galway with an eclectic interest in all sports, but writes predominantly for Extratime on all things Salthill Devon, where he is a founder member, and Galway United. He is the Media …
| P | Team | Pd | W | D | L | Pts |
| --- | --- | --- | --- | --- | --- | --- |
| 1 | Dundalk | 33 | 23 | 9 | 1 | 78 |
| 2 | Cork | 33 | 19 | 10 | 4 | 67 |
| 3 | Shamrock R | 33 | 18 | 11 | 4 | 65 |
| 4 | St Patrick's Athl. | 33 | 18 | 4 | 11 | 58 |
| 5 | Bohs | 33 | 15 | 8 | 10 | 53 |
| 6 | Longford | 33 | 10 | 9 | 14 | 39 |
| 7 | Derry | 33 | 9 | 8 | 16 | 35 |
| 8 | Bray | 33 | 9 | 6 | 18 | 33 |
| 9 | Sligo | 33 | 7 | 10 | 16 | 31 |
| 10 | Galway | 33 | 9 | 4 | 20 | 31 |
| 11 | Limerick | 33 | 7 | 8 | 18 | 29 |
| 12 | Drogheda | 33 | 7 | 7 | 19 | 28 |
Be Social