James Keddy: 'I'll always remember that night (we won the league with Derry) - the atmosphere around the city afterwards was special'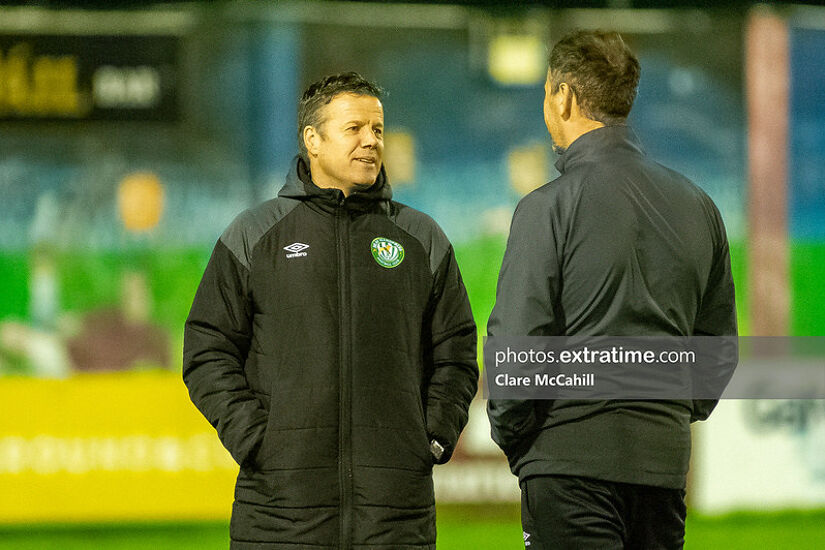 A long and successful domestic playing career doesn't automatically result in one of the limited League of Ireland managerial positions on offer at any given time.
James Keddy has had to gain experience in a similar role at Leinster Senior League level and as an assistant manager in the First Division before earning his first appointment, taking over Wexford FC late last year.
A 17 year League of Ireland playing career took in Home Farm, UCD, Derry City, Shelbourne (twice), Dundalk, Shamrock Rovers, Bohemians and Drogheda United, with a number of league titles and domestic trophies secured along the way.
However, it's the Dubliner's years at the Brandywell and capturing the 1996/97 Premier Division that's cherished the most.
"It was my first big move," said Keddy speaking with extratime.com recently. "They were very good to me and Felix Healy, the manager, was brilliant. Derry was the first place that felt like home. They are fantastic people, the supporters were unbelievable and we were very successful as well.
"The night we won the league, I got the first goal against St Pat's and Peter Hutton got the second. I'll always remember that night and the atmosphere around the city afterwards was special."
After cutting his managerial teeth in the LSL, James became Director of Football at former club Home Farm before becoming Gary Cronin's assistant at Bray Wanderers in 2019 and then Longford Town.
"I've a very good relationship with Gary. He gave me my chance in the League of Ireland and is a really good guy. He's into coaching, loves football and we bounced off each other well. Other managers probably didn't want me around because they think I'm too opinionated, but I'd rather have a strong personality.
"It's good to say what you think rather than agree all the time. Some people might like to have someone weaker beside them, but that's not the way I am."
High profile managers
Throughout his playing days, Keddy worked under some of the country's most high profile and successful managers, picking up different traits, which he implements today in his own style.
"Liam Tuohy was very intelligent. He knew how to make lads tick, knew everybody individually and their backgrounds too.
"Paul (Doolin) was excellent on the training ground. Felix was different altogether and taught me about life, as well as football ... Also very intelligent and kept things nice and simple.
"Dermot (Keely) was a born winner. He believes in hard work and is very good at assembling a team that will help him to win. He wouldn't let anybody away with anything, as well.
"I've taken things away from them all. We all have good and bad things about us as people, but I think I've taken all the good bits. I'm only at it a year and it'll take me a while to find my own way. The most important thing is to be hardworking, good with people and be honest with them.
"When you have big squads, it's difficult when you're leaving players out, but I experienced that too, at Drogheda at times. You have to be playing well every week to stay in a team and it's very hard for players to be that consistent."
At one point, not so very long ago, it seemed like the same names and faces were continually reappearing whenever a vacant League of Ireland managerial role arose.
In recent years, the trend for untried applicants has notably increased, including Keddy, who was 49 at the time of his maiden senior appointment.
"Over the last few seasons clubs seem to be going with younger managers. All boards are different. Some might feel that they don't like stronger people and that younger managers are easier to deal with and less demanding.
"I'm very lucky that the people I work with are strong, good businessmen and football people. When I was interviewed, I told them what my personality was and that I like to be left alone to do my job. They've given great support to me.
"It's very hard to judge people at the start because we had a lot of injuries. We lost the first couple of games, but it takes a while for a squad to gel. I've seen a lot this year that I wouldn't have as an assistant, but I'm learning."
Play-offs
It's no secret that before the current campaign commenced, Keddy viewed that anything less than a play-off position would be a disappointment. With this target firmly in sight at the time of writing, the Wexford boss is far from complacent about the run-in.
"I think the team has evolved really well. For us to get to the play-offs, we just have to do what we've been doing for the last few months and attack at the right times.
"People forget about defending, but that's an art as well. I learned from Dermot Keely that a clean sheet is your starting point, but we've got fellas that can score goals too. If we're defensively good for the next number of weeks, we'll end up where we should and hopefully it is the play-offs.
"Please God, we can get over the line, but you just never know. We never take anything for granted, as football can change over a couple of days. We'll be working hard and striving to improve.
"We've an honest squad with a lot of young players. James Crawford is still in school and had to get a half day off when we played in Cork recently. Luke Browne is another and only 17. People forget how young we are."
Stephen Bradley on Liam Scales: 'He plays in the Old Firm, gets man-of-the-match and hasn't looked back' - https://t.co/94rjArr8tjhttps://t.co/Vhi2rtKY0Z

— Extratime.com (@ExtratimeNews) September 25, 2023