Eileen Gleeson on Ireland win in front of record breaking Aviva crowd: 'It will stay with us for the rest of our lives'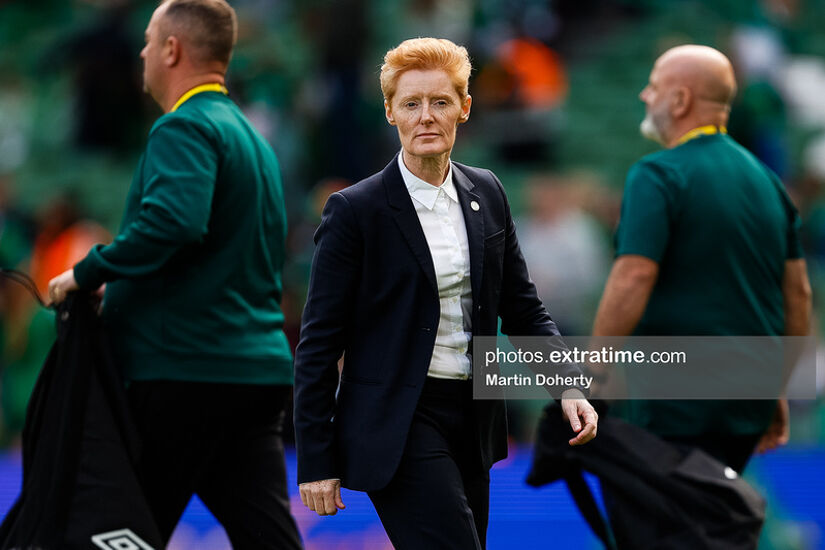 Macdara Ferris reports from the Aviva Stadium
Just prior to one o'clock, interim Ireland boss Eileen Gleeson stood on the side of the Aviva Stadium pitch with her assistants, adjacent to Uachtarán na h-Éireann Michael D Higgins, as tenor Lisa Lambe led the 36,000 crowd in a rendition of Amhrán na bhFiann.
Her team then went out and comfortably beat Northern Ireland 3-0 in an excellent debut in the UEFA Nations League. Afterwards extratime.com asked Gleeson her thoughts about that moment as she managed her country on such an occasion.
"There's no words, there really isn't," said Gleeson. "It's so special, it's hard to actually put into words. It's magic, you're standing there and you're like, 'Ah, what happened?…
"What happened three weeks ago, I was just travelling along, doing my job, happy out, and now I'm standing here with Amhrán na bhFiann playing, packed out stadium, best group of girls, best group of staff.
"We've got some really good talent coming through, so to give them an opportunity and transition them in during these games going forward.
"I didn't know what we could anticipate coming into the Aviva today but it is like nothing you've ever experienced before and it will stay with us for the rest of our lives. We're super happy."
She praised the back-room team who lent their support to her during an incredibly busy period for Gleeson whose usual role in the FAI is Head of Women's and Girl's Football.
"I can't describe the work that's gone on in the background and the turnaround that has had to happen. But everybody has stepped up - media, ops, backroom staff, every single person has been super coming in and really stepped up.
"It's a whole collective, it's not just me. Everybody on that bench – (her assistants) Emma Byrne, Colin Healy, Richie Fitzgibbon - stalwarts of the game.
"I mean what could you ask for, three points, three goals, clean sheet, amazing support. What a day. Thoroughly enjoyed it, and can't really ask for anything more."
Goals from Lucy Quinn, Kyra Carusa and Lily Agg earned the Girls in Green a win over a lacklustre Northern Ireland.
"I think we've had a solid performance, shown some purpose. We've had a week, I think the girls have responded tremendously through that short amount of them."
Tyler Toland: 'Nothing makes me prouder than playing for Ireland and pulling on the green jersey' https://t.co/x6jitkhb7xpic.twitter.com/g5vzDFsUoR

— Extratime.com (@ExtratimeNews) September 23, 2023
The last time Ireland played in Ireland, it was to a packed Tallaght Stadium in the build up to the World Cup in front of a then record 7,663 crowd but on Saturday it was close to five times that number – something that will live long in the memory for all involved.
"Gleeson hopes it won't be the last time there will be such a match on Lansdowne Road for the Girls in Green.
"To the players doing the lap of the support (at the final whistle), looking up and seeing that sight, it's packed. They were walking around the stadium going, 'This is incredible.' We'll never have that first feeling again, so super special always.
"This is what it is, this is where the girls belong, this is where women's football belongs. We're really thankful to everybody that came out today."

Gleeson acknowledged that there was some pressure on the players on the back of the fall out from the departure of Vera Pauw but was happy with the focus shown by the squad on Saturday ahead of their match in Hungary next week.

"It's not that you say no (about there being pressure), there's always pressure. We had a lot of noise and we spoke about that but we had to focus on this. And you can only move forward: football is the change of an environment, things happen, you move forward.
"We had to play this game today. We have to play a game on Tuesday. We just narrowed it in, galvanised inside, and stayed positive."
UEFA Nations League: Republic of Ireland 3 - 0 Northern Ireland https://t.co/7p4zV1aEq4pic.twitter.com/BPpWarEzyZ

— Extratime.com (@ExtratimeNews) September 23, 2023