Amanda Budden: 'This weekend is a big one and we're just trying to push on now'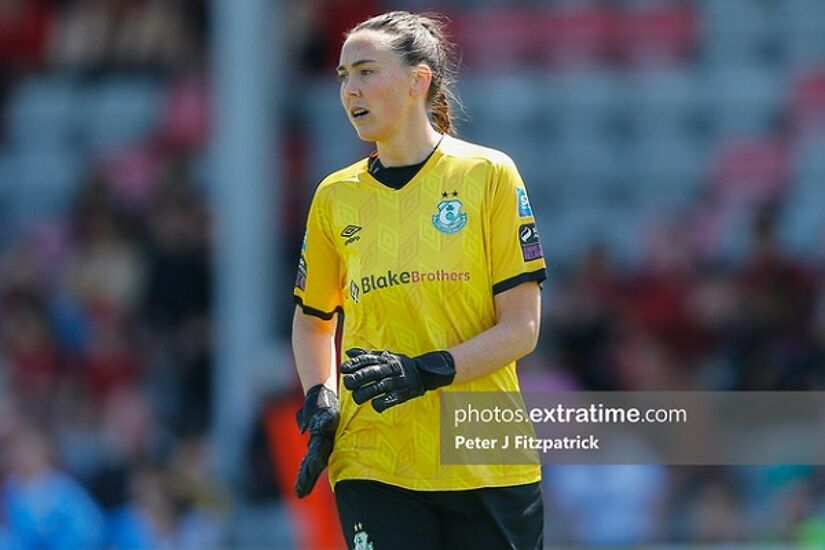 Shamrock Rovers take on leaders Peamount United in a top of the table clash this weekend in the Women's Premier Division – and Amanda Budden is ready to go.
The unbeaten Hoops will be seeking a result to sustain their title challenge this Saturday as the three-time league champions arrive at Tallaght Stadium.
Yet, Budden, who joined Rovers from Shelbourne at the start of the season, admits even she has been surprised by the start made by Collie O'Neill's side this season.
"If you said to us at the start of the season this is where we will be now, I think anyone would have taken that position," she said when speaking to the extratime.com podcast this week.
"I don't think anyone really knew where in the league and what way the team was going to go.
"It has been a great run of games and we're still unbeaten. But it's class. This weekend is a big one and we're just trying to push on now and take every game as it comes."
Shamrock Rovers re-entered the Women's Premier Division at the start of the 2023 campaign – and that was the first time the Hoops entered a side into it since the 2013/14 season.
But a lot has happened since then, with the Hoops finishing dead-last on that occasion and withdrawing from the competition soon after.
And while it may have been 'scary' to jump into the unknown, Budden admits it was a switch that has been worth it.
"It was a bit scary to be honest," she explained. "You're jumping into the unknown.
"On paper they have everything but that doesn't matter at the end of the day. You're going out playing a match every weekend and that's all that matters.
"It was a bit scary going into something that you didn't really know… Was it going to work or not?
"I think a lot of us took sacrifices in a lot of different aspects in joining Rovers. But it was definitely worth it in the end."
While at Tolka Park, Budden was a crucial member of a successful Shelbourne side that shone under former Ireland under-21 men's boss Noel King.
They won back-to-back league titles in 2021 and 2022, and also claimed the FAI Women's Cup in 2022 to seal a historic double.
But she left the Reds alongside teammates Abbie Larkin, Shauna Fox, and Jess Gargan to join Shamrock Rovers during the off-season.
"To be honest I did not want to leave but there were other factors and reasons to why I did," she said.
"But I did not want to leave the girls even now they are still my best friends.
"It's hard to leave, especially after winning two leagues and a cup. It's nothing any of us wanted to do but I had to come to a decision and go with it in the end."
And when asked about some online abuse faced by Shels' departing stars, Budden stressed that there was 'no need' for the comments to be made.
"I don't think there was any need for some of the comments floating around," the keeper added. "But look it doesn't reflect anything on the team or the club or the girls.
"Every single year people move clubs. I left on good terms and I'm still best friends with a lot of the girls.
"I don't think there was any need for it, especially towards the younger girls."
To listen to the entire conversation with Amanda Budden, tune into the latest episode of the extratime.com podcast.