Daly: 'I hope going forward I have a long career, it's something that I wanted to do and I'm very grateful for the opportunity.'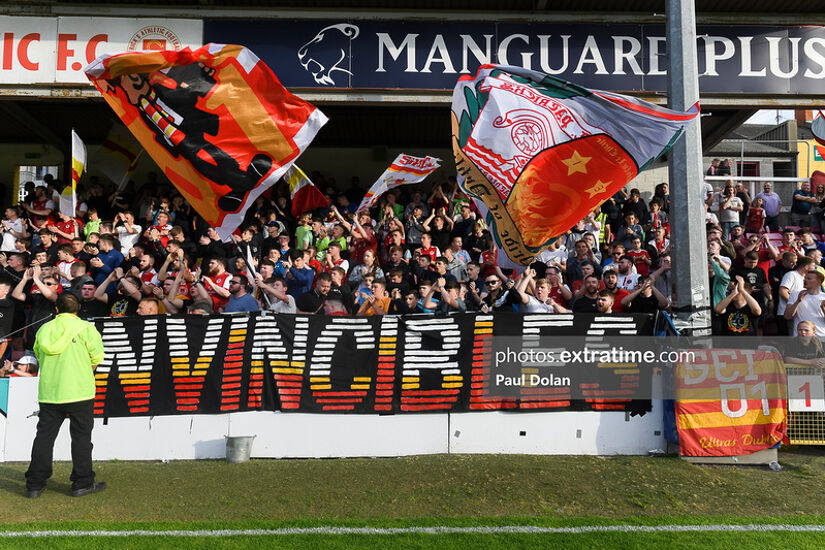 Luke Jordan reports from the UCD Bowl
St. Patrick's Athletic manager Jon Daly was "very pleased with the result" as the Saints emerge 3-1 winners away to UCD Friday night.
Despite thinking his side should have been more clinical in front of goal, the Pats manager was happy overall with his team's performance.
Corners
Three of the goals against the Students Friday night came via corner kicks thanks to goals from Conor Carty and a brace form substitute Noah Lewis. When asked whether this was worked on, Daly stated they highlighted the importance of set pieces before the match against UCD.
"Yeah, we obviously had a couple of different options, and that was one we had worked on. We kind of seen after the first one we felt we could get something out of it so we didn't even try the other ones, we thought we could keep persisting with that one and it worked out really well".
Defensive injury woes
Despite the pickup in form since Daly's arrival, this has not coincided with luck on the injury front in defence for the Saints. Before Friday night, Joe Redmond, Tom Grivosti, and Axel Sjoberg were all ruled out due to injury. After 39 minutes of action, Jay McGrath was forced off with an injury to add to the list in centre back. When questioned on whether they need to go into the transfer market in the summer, the Pats manager did not rule it out.
"Yeah, it's obviously something will need to look at. In terms of defenders, we only have four fit defenders, so we need help as we got a couple of long-term ones. Joe Redmond hopefully will be back, mid to late July. Tom Grivosti is looking like he's out for the season. I think Axel Sjoberg will be back after the break and we need to assess Jay McGrath how he is but his contract is up at the of June so we need to see can we do something with him as well. It's definitely an area we need help in".
McCormack's Form
Since Daly's appointment, Ben McCormack has featured in all six of the former Rangers strikers' games after being a periphery figure under former boss Tim Clancy. McCormack delievery proved to be very effective throughout the game against the Students as he picked up a hat trick of assists, all from corner kicks.
"Ben is a good player; we obviously have a certain style of what we want to do and how we want our midfielders to play. Ben was used on the side tonight in terms of a little bit higher. I've had a chat with Ben, trying to get him minutes, trying to get him on the pitch. When he plays, I'm not going to ask him to do certain things that we want from the team. When he comes on the pitch, it's to be creative and take risks and as we've seen tonight his set play delivery is very good. Ben is very good of getting on the ball and creating things for us.
Transitioning from assistant to manager
Daly has won five out of his six games in charge of the Athletic since first becoming interim and then permanent manager, winning the past three matches on the bounce. The Dubliner admits he's really enjoyed the transition to becoming the boss in D8.
"It's something I've been working towards since I've stopped playing. I wanted to develop myself as a coach and make sure that I feel like I'm a good on the pitch coach and make sure I can take sessions and get my points across. That's why I went out to Finland to work on my communication skills and make sure that my messages come across in the right manner. I hope going forward I have a long career, it's something that I wanted to do and I'm very grateful for the opportunity.
The fact I was in the building probably makes it a little bit easier, I know what the players can and cannot do and my job is to get the best out of the players and put them in positions so they can go and express themselves and show people what they can do".
The Athletic have a quick turnaround as they face Derry City at home Monday night in Richmond Park. Kick-off is 6.45pm.