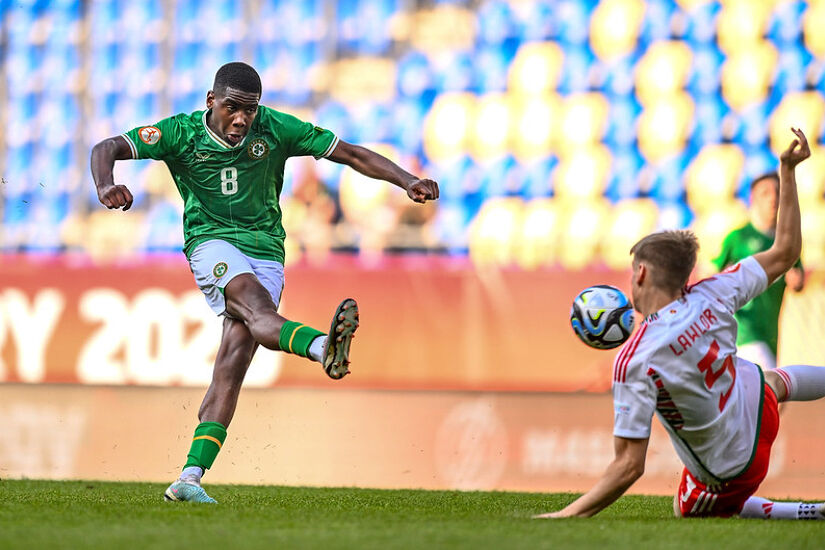 Ireland Under-17 squad sets sights on European Championship Quarter-Finals
Tue, May 23 2023




The Irish Men's Under-17 football team produced an outstanding display on Saturday, dominating Wales with a 3-0 win in the ongoing European Championships.

The victory came thanks to goals from Naj Razi, who scored from a penalty-rebound, Ike Orazi with his second goal of the tournament, and Romeo Akachukwu, who secured the win with a stunning 30-yard strike.

This win now sets Ireland up for a decisive clash with the hosts, Hungary, tomorrow. The team needs another victory to move out of Group A and into the Quarter Finals of the Championship.

Ireland and Hungary are no strangers, having already faced each other twice in friendly matches earlier this year. Ireland won one game 1-0 and drew the other 0-0. The Hungarian team, similarly to Ireland, experienced defeat against Poland (3-5) but also claimed a 3-0 victory over Wales. The Hungarian side, however, will be enjoying the advantage of home support as they too look forward to securing a place in the last eight.

The match is scheduled for Tuesday, May 23, at the Puskás Akadêmia Pancho Arena in Felcsut with kick-off at 7pm Irish time. Fans can tune into the RTÉ News Channel & RTÉPlayer to catch the live action. The Irish team reports no serious injury concerns ahead of their final group game.

The Ireland Men's Under-17 Head Coach expressed his satisfaction with the team's growth, stating, "I've enjoyed watching this team grow from when they were first in with us last year, through two qualification campaigns and to a European Championships." He continued, "It will stand to the players so much being at these finals as they are up against the best players from Europe at their age level."

Naj Razi, the forward who scored in Saturday's game, said, "It's a proud moment for me and my family to represent my country. It's great to be involved and have two starts, two assists and a goal." He further expressed his enthusiasm for the upcoming match against Hungary, stating, "They're a tough opponent but we'll prepare right and go all out for the three points."

To keep up with the competition, fans can visit the Championship Tables here, view the Championship Results here, and enjoy the Ireland Video Highlights here. Stay tuned for further updates on Ireland's journey in the European Championships.