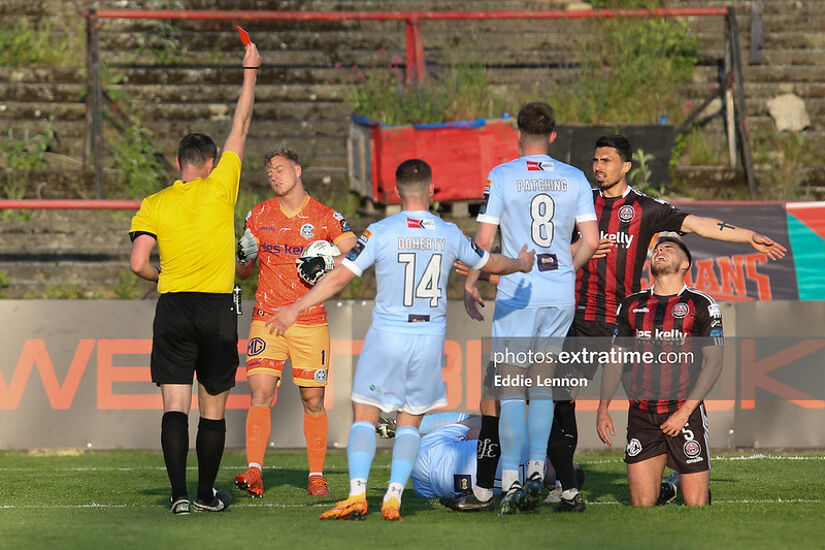 Suspensions Announced in SSE Airtricity League's Men's and Women's Divisions
Fri, May 19 2023




Several individuals have been sidelined from the SSE Airtricity Men's Premier Division, Women's Premier Division, and Men's First Division due to disciplinary reasons.

In the Men's Premier Division, Bohemian's Grant Horton, and Cork City's Joshua Honohan, Alexander Gilchrist, and Cian Coleman have all been handed suspensions following their red cards in recent matches.

Horton, Gilchrist and Honohan each have one game left to serve on their bans. However, Coleman faces a longer duration on the sidelines, with two games left on his suspension.

In the Women's Premier Division, Peamount United's Tara O'Hanlon is also currently serving a suspension due to a red card. She has one game remaining on her suspension. Additionally, Shelbourne's manager Noel King has received a two-game suspension following a red card incident.

Moving over to the Men's First Division, Treaty United's Ben O'Riordan has three games remaining on his suspension. Longford Town's Jack Brady and Aodh Dervin each have one game left to serve following their red cards and accumulation of yellow cards respectively.

Additionally, Galway United's Stephen Walsh and Robert Slevin are each serving a one-game suspension due to an accumulation of yellow cards.

Lastly, staff members Conor McCarthy from Kerry and Gavin Peers from Longford Town are facing suspensions due to red card offences. McCarthy has one game left on his suspension while Peers will miss the next three games for Longford Town.