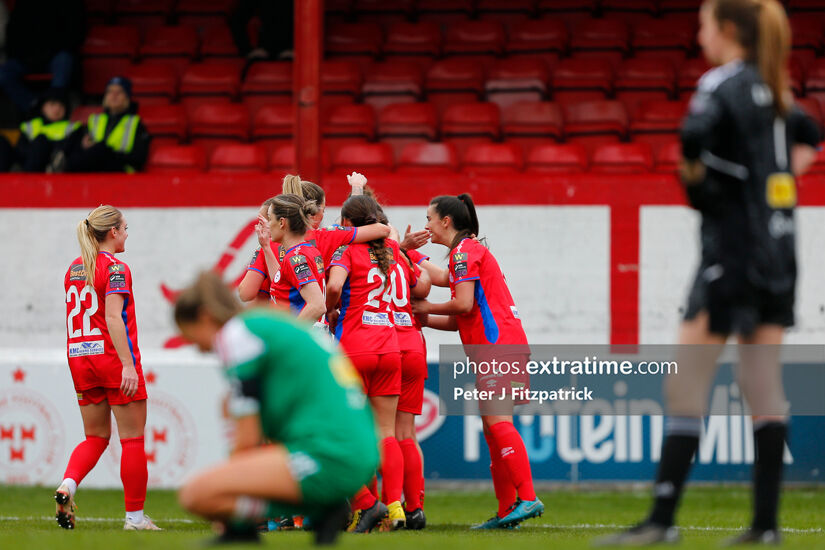 LOIW Preview: Shelbourne -v- Galway United
Fri, Mar 24 2023




SHELBOURNE

Shelbourne will be looking to extend their unbeaten run in the Women's Premier Division when they host Galway United at Tolka Park on Saturday (kick-off 2pm).

The Reds are in the thick of it at the top of the table, as expected after strong wins over Cork City and Bohemians early in the season.

Last week saw a real test as Shamrock Rovers visited Tolka Park for the first time – the side played out a 1-1 draw with Aine O'Gorman opening the scoring and Jessie Stapleton equalising midway through the second half.

Noel King's side will be pleased to have not ceded any ground to Rovers who had six former Shels players in their starting line-up last week.

Galway United are still finding their feat in this league with the side being mostly made up of young players under manager Phil Trill for their inaugural campaign.

The Reds will have to be wary of the Tribeswomen this weekend, they may not have scored many goals but they have performed extremely well in their losses to Wexford Youths and Bohemians and are unlucky to not have more points on the board.

GALWAY UNITED

This weekend sees a big test for Phil Trill and his players as they travel to Tolka Park to face the current Women's Premier Division and FAI Cup champions for the first time.

United find themselves with just one win after three games this season, although if things had gone a little different they may well have come away with results against Bohemians and Wexford Youths.





Last weekend saw the Tribeswomen host Bohemians in a game that they dominated for much of the 90 minutes, a costly error at the back lead to Sarah Rowe's goal which gave the visitors the three points.

Despite that disappointment they can take comfort in the fact that they have not been outclassed by any of their opponents in this league and if they can put in another good shift on Saturday they may well be able to claim some points at Tolka Park.

Manager Phil Trill is confident that he won't change the way his team plays for their visit to Dublin.

"We won't fear anybody, we won't change the way we play and if mistakes happen that's fine, we'll address them and learn from them," Trill said, speaking to extratime.com after last week's loss to Bohemians.

"Going to Tolka Park, being honest for us – it's just another pitch and another 90 minutes to go and prove what we're working on.

"We are at the start of our journey and our development as a club, but we won't fear anybody. We have some fantastic players. Moving forward to next week, we're looking forward to Shels but it's team versus team, there's only one ball and hopefully we'll control it during the game."





Referee: Daniel Murphy

MATCH STATS

Shelbourne are unbeaten after three games in the Women's Premier Division.

Galway United have scored just one goal so far this season.

PREDICTION

Shelbourne 1–0 Galway United

Shelbourne

Injured: N/A.

Doubtful: N/A.

Suspended: None.

Galway United

Injured: N/A.

Doubtful: N/A.

Suspended: None.