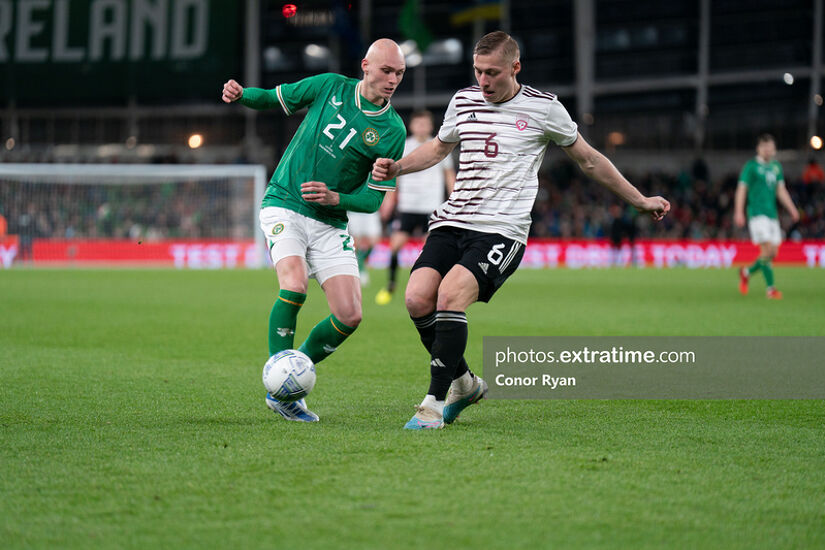 Stephen Kenny: 'When I was Under-21s manager I met Will Smallbone and told him we wanted him to play for Ireland'
Fri, Mar 24 2023




Stephen Kenny has explained how he coaxed Will Smallbone into committing to play for Ireland at senior level when he was Under-21s chief.

Kenny handed Smallbone his senior international debut on Wednesday night against Latvia and the on-loan Stoke City star showed glimpses of his undoubted quality at the Aviva Stadium.

But it could have been different had Smallbone declared to play for England when speculation was rife that Gareth Southgate's men were interested in him.

However, Kenny explained how he managed to ensure Smallbone – whose mother is from Kilkenny – played for Ireland at senior international level.

"I know Will a long time," Kenny said. "When I was Ireland Under-21 manager I met him at Southampton's training ground and he was only a teenager.

"There was speculation at the time that England were interested in him. I said to him that we wanted him to play for Ireland.

"He had been injured at that time – and he just said 'I needed to hear that from you'. He's very proud of playing for Ireland.

"His mother is from Kilkenny and she was at the game on Wednesday night and she was an athlete herself. They are so proud of Will playing for Ireland.

"He did his cruciate before and that impacted his game-time. It was hard to come by at Southampton and he had other issues.

"He played well in the Under-21 campaign and played in a good Stoke City team. But I have found in the last six weeks that he has really kicked on."





While Smallbone impressed against the Latvians on his senior international bow, it remains to be seen if he will get the nod to start against France on Monday night.

"He found another level and new aspects of his game and became a more all-round player," he added.

"I think he will be an important player for Ireland in the next few years. We'll have to see about him playing on Monday night as it is soon to play but we will have to wait and see."

While Smallbone impressed, Evan Ferguson also did with goal on his first senior start for the Boys in Green.

But even the Brighton teenager is not a guaranteed starter on Monday night against the French according to Kenny.

"It's not a bad habit to be scoring goals," the former Dundalk boss replied when speaking Ferguson. "I think that it's terrific to score on your first start.





"I'm sure has scored more spectacular goals but Evan is always in the right place. He has a natural instinct to get into the right places.

"I don't mind his two long-range strikes that went over. He was getting the ball out of his feet and struck the ball well. I want him to do that.

"I thought he did well on Wednesday night. I watched the game back against Latvia and found it being a very good performance. There were many aspects that I was pleased with."

However, the major conundrum facing Kenny and his backroom team is how can they stop a star-studded French side from running riot at the Aviva Stadium.

And there is also the small matter of keeping a leash on superstar striker Kylian Mbappe.

"If you have any suggestions are very welcome," Kenny joked in reply to a question about the PSG star.

"Listen, he is a very exciting player and is a match-winner for sure. We know what we have to do and we are inspired by a number of Irish performances against the French before.

"We have made the players aware of it. It will be really special on Monday and we can be inspired by the crowd. The crowd has a powerful role and they inspire the players.

"We know France are a great team and have been the best team in the world for the last eight years. But these are special nights and we want to achieve something extraordinary."

Stephen Kenny was speaking at the launch of Circle K's new partnership with the Football Association of Ireland. Circle K joins The FAI as Official Fuel and Convenience Partner, partner to the Men's and Women's National Teams and the first ever title partner of FAI Club Mark, the association's grassroots award to improve clubs and help grow football in communities throughout Ireland. For more information visit circlek.ie.