Postcard from Shamrock Rovers' group stage game in Ghent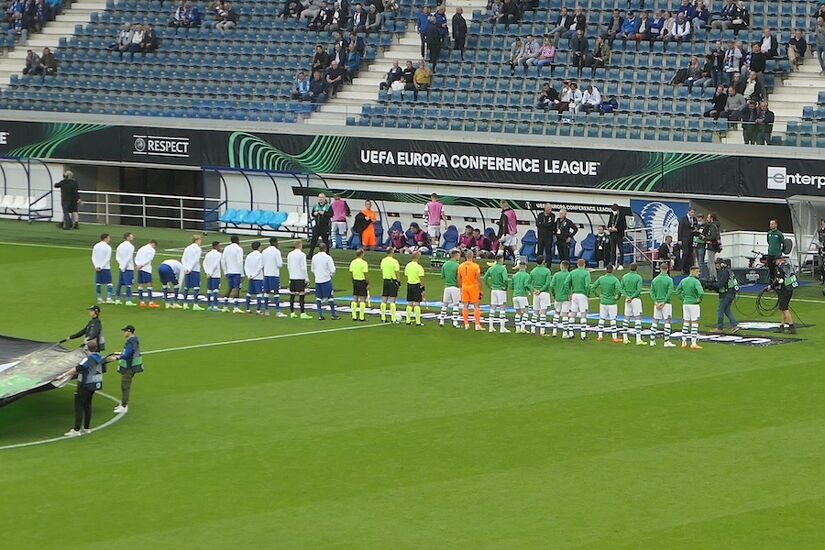 Over 1,000 Shamrock Rovers supporters travelled from Tallaght to Belgium for last Thursday's Europa Conference League group game in Ghent.
It was the biggest away following for the Hoops in Europe since they went to White Hart Lane back when the club first made UEFA group stage football (in the 2011/12 Europa League).
With match day two throwing up Rovers' first away game of the group stages in what was a very accessible country, this was a trip that was booked quickly by Rovers fans after the draw was made a few weeks back.
On Thursday in Belgium, there were the usual diehards who travel home and away (including some Rovers fans for whom it was their fifth European away trip in two months) and for others it was their very first Euro awayday – many parents brought their kids for their debut European away match.
It all made for a great atmosphere on match day around the beautiful Flemish city of Ghent.
Rovers fans exchanged their purchased game voucher for a match ticket at Foley's bar which became the home for the visiting supporters on match day.
The fans spilled out onto the canal side, causing much amusement to the tourists who were gliding by on their boat rides around the famous Ghent canals.
There was a small fun run on that day that went by the pub so the local runners got cheered, high fived and garlanded with toilet paper (!) as they ran through the hordes of happy Hoops fans outside the pub that afternoon.
At 4.30pm the fans headed en-masse on the march to the Ghelamco Arena. The Ghent locals were serenaded with Rovers songs; what they quite made of 'Twigg of Scotland' being sung I don't know.
The KAA Gent ground is 4.5km from the city centre so it took about an hour to walk out into the suburbs and to the ground under a well-co-ordinated police escort with plain clothes police walking in the crowd, a couple of vans, motorbikes and even horses close to the ground.
There was the usual pat down by stewards before entering the ground although it was the first time I'd seen 'pyro dogs' sniffing through any bags that had been brought by Rovers fans to the game.
#pyrodogspic.twitter.com/eY8zPd7Qo0

— Macdara Ferris (@macdarabueller) September 16, 2022
The away section was full of supporters, with flags hung from every nook and cranny of that corner of the ground. The expectation ahead of the match from supporters was that this would be a step up from the Djurgardens game in Tallaght that had ended in a scoreless draw and so it would prove.
That draw against the Swedish side looks an even better result after their 3-2 home win against Molde in the other game in the group last Thursday.
It was an early 6.45pm kick-off local time which maybe accounted for what was a disappointing attendance just below 8,000 on the night (in a stadium with a 20,000 capacity).
I'll also have a moan here about Gent's catering system where you needed to buy paper tokens from one queue before going to a separate queue for food and another one for soft drinks. I can understand having a cashless arrangement in the stadium but there is no excuse for such a stupid system with current technology.
Similar to matches earlier in this European campaign, when the Hoops away from home have come up against teams with top level UEFA group level experience like Ludogorets and Ferencvaros the scoreline hasn't been too kind. 2-0 down after 18 minutes Rovers fans might have feared a tonking, however Rovers certainly stepped it up in the second half.
Having had no shots in the opening half, they had seven in the second half, four of them on target. Rory Gaffney, Jack Byrne, Lee Grace and Justin Ferizaj all went close in the second half and Rovers only conceded one more goal.
Free buses were laid on by Gent to return spectators back to the city centre with Rovers fans spreading out acrss the various hostelries to enjoy the odd Belgium beer or two.
Chat turned to what the Hoops need to do to retain their league title and to travel plans for Molde and Stockholm for the remaining two away games in the Europa Conference League group stages.
#awaydays#EuropaConferenceLeague#shamrockroverspic.twitter.com/w4m0f7dvkB

— Macdara Ferris (@macdarabueller) September 15, 2022