Katie McCabe: 'To get to a World Cup playoff just a stone's throw away from my house is pretty special'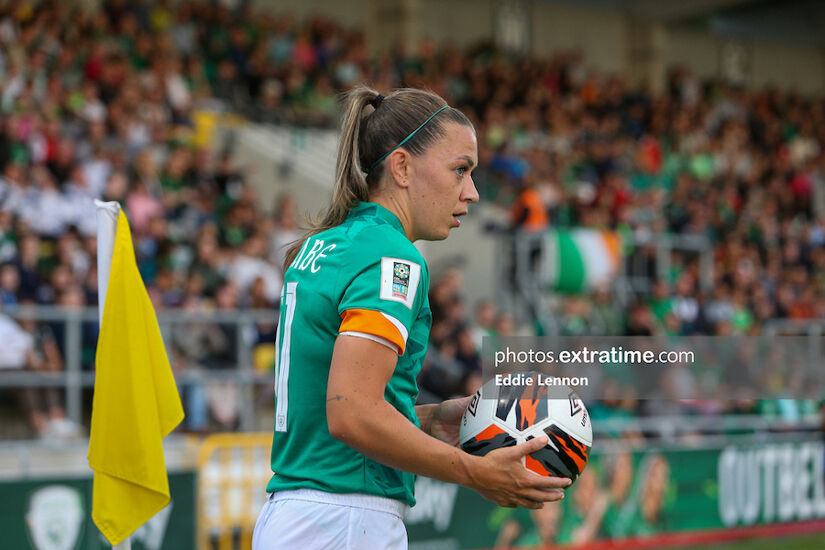 Macdara Ferris reports from Tallaght Stadium
Tallaght Stadium is home to the Ireland's women's team and Tallaght is home to Ireland captain Katie McCabe.
The Irish skipper had a grin from ear to ear as she talked through her reaction after the final whistle on what was an emotional homecoming for the 26-year-old player.
She sees securing the play-off after Ireland's 1-0 win over Finland as something that not only she and her team have earned but how it came from them taking up the baton from the players who came before them.
"I think I fell to the floor," said McCabe when asked about her reaction at the final whistle. "It was just a relief. I've been working so hard for this since I came in six years ago. There are people who have been here 12 years longer than me. It's such a moment even for past players that were watching us in the crowd.
"We met Paula (Gorham) and Linda (Gorman) in the week, two WNT legends (who played for Ireland in the 1970s) and we're doing it for them. They paved the way for us and for us to say that we reached a World Cup playoff is an amazing feeling. But it is another step, but we will enjoy the moment because we have never done it before.
"I ran over and gave my ma a big hug," said McCabe. "I was so happy to see my family there and them all cheering us on. I used to roam about the Square (Shopping Centre) over there when I was younger so to get to a World Cup playoff just a stone's throw away from my house is pretty special. I'm in disbelief, to be honest."
Vera Pauw: 'We celebrate here (in Tallaght) but we don't party in the hotel' https://t.co/e4AaTjiaXJpic.twitter.com/LfYadymX8Y

— Extratime.com (@ExtratimeNews) September 1, 2022
Vera Pauw had spoken about how her team needed to change things at half-time after Ireland were second best in the opening half. McCabe was asked were the team nervous at the start of the game?
"It probably looked nervy, but we were pretty calm. It was just about figuring out their set-up. Obviously they have a new coach and they looked to have their full-back inverted, which overloaded our midfield a little bit. It frustrated us at times because we didn't quite know how to figure it out, but I think we dealt with it well in the first half.
"We nullified as much chances as we could, kept making them go long and we would defend that. We had a look at it on the clips (at half-time) and pushed Denise (O'Sullivan) on to their six, to get that extra bit of pressure and relieve the midfield.
"I think we had a much better second half. We grew in confidence in the game then, got some set-pieces and got the goal in the end.
Ireland had worked their goal in the 1-1 draw in Gothenburg by exploiting how they felt Sweden switched off when facing deep free kicks. On Thursday, they worked a different type of free based on how the Finns defended.
"The free-kick itself was something we looked at, that area in between the goalkeeper and the backline - it's one of those awkward ones, the keeper doesn't want to go out and the defenders don't want to drop too early.
"But what a delivery from Megan Connolly, we know she has that in abundance, and the header from Lily Agg - I thought it was never going to drop into the goal. Delighted it did!"
Tallaght Time
There had been some discussions about moving the Finland game to the Aviva but Tallaght women McCabe felt the atmosphere and the result means that Tallaght remains the place for her.
"Before we go talking about the Aviva and everything else, I want to pack out Tallaght Stadium game after game. You can see the atmosphere it creates, it's unbelievable. You've got the fans on top of the players, really cheering us on.
"You can see it the last four minutes, the board goes up and they just erupt and give you that extra bit of strength and energy to keep going. You forget about your cramp or whatever, you just keep running for them. That's what I love about Tallaght Stadium and that's why it's our home.
"It would be a dream to play at the Aviva but we know Tallaght Stadium inside and out. It has been our home for the last six and a half years since I have been here. So I don't know why we would want to familiarise ourselves with something else on such a big occasion.
"I don't mind playing in the Aviva in a showcase game against the USA, England or whoever it might be. But to change venues in the middle of a qualifying campaign is a no for me."
And this is how the play-off works..... https://t.co/Go21IXw34O

— Extratime.com (@ExtratimeNews) September 1, 2022