World Cup Qualifier Preview: Republic of Ireland -v- Finland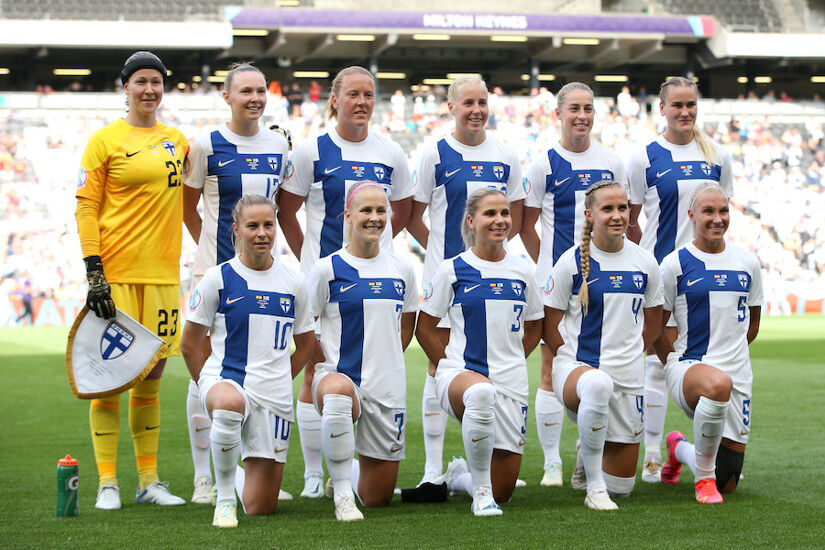 REPUBLIC OF IRELAND
The Girls in Green can secure a place in the play-offs for the 2023 Women's World Cup with a win over Finland on Thursday night at a sold out Tallaght Stadium (kick-off 7pm).
They would then travel to Slovakia for the final group game next Tuesday with that match a dead rubber – albeit it would be a useful run-out ahead of the UEFA play-offs which are set for 6 and 11 October.
For more details on the complicated play-off route, which has a backdoor option through a FIFA play-off early next year in New Zealand here:
Explainer: How to watch Ireland's crucial World Cup qualifier against Finland? What do the Girls in Green need to do to make the play-off? How do the play-offs work? https://t.co/DY9Qnwyo6Tpic.twitter.com/ZRKd9BYzmg

— Extratime.com (@ExtratimeNews) August 31, 2022
When Vera Pauw took over as manager the Irish side played a series of friendlies in the run up to the start of qualification.
The matches against high calibre opposition saw the team lose seven consecutive matches – the country's worst run in the 48-year history of the international team but Pauw the lessons learned from those matches have been very valuable in their qualifying campaign so far.
Ireland started with a 1-0 defeat at home to Olympic silver medalists Sweden in the opening game before following that up with a 2-1 win in Finland.
They followed that up with a 1-1 draw at home to Slovakia before battering Georgia 11-0 in Tallaght across a six day period in November.
The crucial point earned away to Sweden in the 1-1 in Gothenburg (the only points dropped by the table topping Swedish team in this campaign, along with the facile 9-0 win in Georgia, mean that Ireland sit second in the table a point clear of Finland going into the final two games (Finland host Sweden next Tuesday).
"This team has grown step by step," said Vera Pauw in the build up to Thursday's game. "Now we are in the position that everyone expects from us. That is what we want. We will be realistic. We know our limits. That is why we played so many big opponents last year.
"This squad is so special. We've played in front of a big crowd in Sweden and in Finland. Everyone was saying will this bring up the pressure. We have played in front of an almost full house at home. These players are independent of that.
"I've never seen a team respond so well to different circumstances. They are so focussed and know what they are doing on the pitch. It will only be a boost."
Tallaght woman and Ireland skipper Katie McCabe is looking to get the stadium 'rocking' with the prize of a place in the World Cup up for grabs in Dublin 24 on Thursday.
She said: "We have had some truly amazing nights in Tallaght Stadium, which is our home, and we hope that this game trumps them all
"I can remember when I first went to see the Ireland team as a kid and being inspired to dream about becoming a professional player and pull on that green jersey. That is what we want for all of the kids, not just those who turn up to Tallaght Stadium but every kid around the country. We want them to dream big and to enjoy playing football."
Niamh Fahey picked up a groin injurty during the week and is unavailable for the match along with Savannah McCarthy, Aoife Colvill, Rianna Jarrett and Kyra Carusa who were left out of the squad named last week due to injuries.
Republic of Ireland WNT Squad
Goalkeepers: Courtney Brosnan (Everton), Grace Moloney (Reading), Megan Walsh (Brighton & Hove Albion), Eve Badana (DLR Waves)
Defenders: Harriet Scott (Birmingham City), Claire O'Riordan (Celtic), Diane Caldwell (Reading), Louise Quinn (Birmingham City), Niamh Fahey (Liverpool), Hayley Nolan (London City Lionesses), Chloe Mustaki (Bristol City), Megan Campbell (Liverpool), Áine O'Gorman (Peamount United)
Midfielders: Katie McCabe (Arsenal), Denise O'Sullivan (North Carolina Courage), Megan Connolly (Brighton & Hove Albion), Ruesha Littlejohn (Aston Villa), Jamie Finn (Birmingham City), Ciara Grant (Hearts), Lily Agg (London City Lionesses), Ellen Molloy (Wexford Youths), Jess Ziu (West Ham United), Lucy Quinn (Birmingham City)
Forwards: Heather Payne (Florida State University), Amber Barrett (FFC Turbine Potsdam), Leanne Kiernan (Liverpool), Abbie Larkin (Shelbourne), Saoirse Noonan (Durham WFC)
FINLAND
When the teams last met in Helsinki, the Girls in Green ran out 2-1 winners over the 'Helmarit'.
Megan Connolly opened the scoring with a free kick in the 10th-minute free-kick. Adelina Engman equalised early in the second half before Denise O'Sullivan grabbed the winning goal with a close range finish.
Engman will miss the match as will Emmi Alanen as the duo up injuries on club duty with Hammarby and Kristianstads DFF respectively last weekend.
The Finns come into the game trailing Ireland by a point coming into the penultimate game, with their final game to come next Tuesday against the already qualified Swedish side.
Finland lost all three of their games in the Euros, albeit playing in a difficult group and sacked Anna Signeul bringing in under-17 manager Marko Saloranta.
"The change has gone very smoothly," according to Liverpool fullback Emma Koivisto who is a club teammate of Niamh Fahey, Leanne Kiernan and Megan Campbell. "The camp has started well and we have had a really good feeling here. The change of coach has brought more energy here - everyone wants to compete for playing spots and show the new coach that they belong on the field, said on Tuesday.
"I know five or six players from the Irish team. It's fun to play against familiar players. In the first game against Ireland, we saw that they are a really physical team and ready to work. I believe and hope that our team trusts has a good performance and we will be able to get three points from this game.
The new head coach has had limited game time to work with his team. Saloranta said: "We want to improve many things, but everyone involved in football knows that there is no time to make big changes in three training sessions. Still, I think we have already developed in the things we want to improve.
"It's going to be a tough match, but I think we have a chance to take the points. Our game has to be at a really good level for that."
He knows that six points from their final two games would guarantee them the play-off. Beat Ireland by more than two goals, and a draw over Sweden in their final game will also do the trick for the Finns.
"We have to win so that the next qualifying spot is still in our own hands. With a draw, there would still be a small chance, but I believe that Ireland will beat Slovakia in their last match."
Referee: Stéphanie Frappart (France)
French referee Stéphanie Frappart to take charge of Ireland v Finland game https://t.co/gc4JZGiWEVpic.twitter.com/Uc0QxjOPVw

— Extratime.com (@ExtratimeNews) August 31, 2022
MATCH STATS
The teams have played each other six occasions. Finland have three wins, Ireland two and one draw. When they last played in Tallaght, the visitors won 2-0 in September 2015 in a Euro 2017 qualifier.
Katie McCabe is Ireland's top scorer in the campaign with seven goals. Denise O'Sullivan has five.
Ireland are ranked in 27th in the FIFA rankings, two places above Finland.
PREDICTION
2-1 home win
Republic of Ireland
Injured: Niamh Fahey, Savannah McCarthy, Aoife Colvill, Rianna Jarrett and Kyra Carusa
Suspended: None
Finland
Injured: Adelina Engman, Emmi Alanen
Suspended: None
Shamrock Rovers draw AZ Alkmaar in UEFA Youth League First Round https://t.co/O9L6h1Y8tBpic.twitter.com/VDGRGF8VBH

— Extratime.com (@ExtratimeNews) August 31, 2022