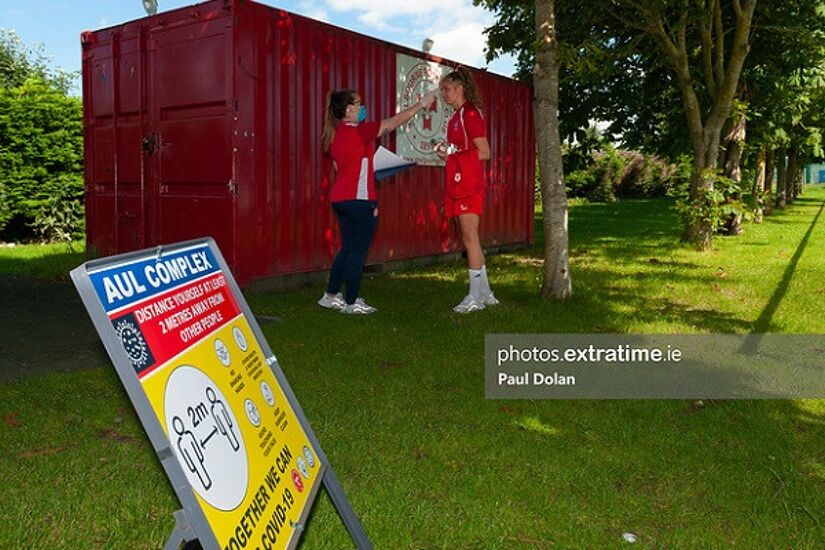 NPHET, Varadakar and Covid-19: Will the League of Ireland be allowed finish with exemption from Level 5 restrictions?
Sat, Oct 17 2020




With the postponement of all underage LOI games this weekend, confusion reigns as to whether the Premier, First Division and Women's National League can be played to a conclusion in the light of tightening Covid-19-related restrictions.

This was always something of a concern after the government published the catchily-titled 'National Framework for Covid-19'.

Under this broad plan, which laid out 5 levels of restrictions, specific exemptions for elite sport were allowable at Levels 3 and 4, even as grassroots activity was halted.

The 'National Framework for Living with Covid-19' appears to outlaw all sport under Level 5.

Strangely, after CMO Tony Holohan's famous, or infamous, letter of October 4th, there were some grounds for optimism amongst football fans.

Many had been worried by headlines about the whole country moving to Level 5, until that proposal was rejected by the cabinet.

However, the subsequent publication of the letter showed that NPHET had in fact proposed that the exemptions for elite sport playing behind closed doors should continue even at the higher level of restrictions.

NPHET's letter to the Minister for Health memtions an 'exemptoon' for elite sport.

Unfortunately, after media appearances by cabinet members from the two largest parties in the government, it seems that there may be some further trouble ahead.

We consider that if the All-Ireland Championships and professional rugby can continue, then so can the League of Ireland, the Europa League, and internationals at various levels.

Speaking to Matt Cooper on Today FM, Fine Gael leader Leo Varadkar seemed to rule out the GAA inter-county championships taking place.

This was reported in Friday's Irish Sun but the commentary in the media in general has been limited. Perhaps one saving grace might be that the Tánaiste seemed unsure of his ground.

When asked by Cooper whether it was feasible for the GAA Championships to take place with teams travelling all over the country, Varadkar replied:

"I do think its feasible, you know, for inter-county elite sports to continue and, you know, we'll see international competitions, for example, continue and I wouldn't like to see Irish teams or Irish athletes having to pull out of international competitions, em but it is difficult for the GAA in particular because they're amateur athletes, em and eh you know they can't be bubbled and cocooned in a way that, eh you know, Premiership players can be or even, even em, provincial rugby players can be, but it can be done em, and eh it obviously has to be done with no spectators em."

Cooper then asked: "but is it actually ultimately a decision for the GAA to make?" Varadkar replied: "at…at the current levels it is yeah. At level 5 it wouldn't be."

Cooper asked: "So if we got to Level 5 would that mean no Championship"" and Varadkar then replied "eh,…it would".

There was some hope that the Tánaiste had simply misspoken. But Irish Independent journalist Donnchadh Boyle stated on twitter that, though he also had initially thought this himself, he had subsequently confirmed the stance with Varadkar's 'people', who said 'at Level 5 there is no elite sport.'

Boyle later wrote this up in the Irish Independent, although the newspaper article avoided mentioning that Boyle thought a mistake had been made and excised Varadkar's hesitant tone from the attributed quotes.

This stance was later confirmed by Fianna Fáil's Michael McGrath. Speaking on RTÉ, Minister for Public Expenditure and Reform said that while he hoped that the various GAA competitions would go ahead he felt obligated to "point out it is provided for in Level 4. If we get to Level 5, there are no matches […] that and a whole lot more is at stake, so follow the restrictions."

While there was no mention of other sports in the minister's contribution, it does seem to be echoing the Tánaiste's stance. This still leaves us with some questions however as even the Tánaiste's clarification to Matt Cooper only referred to the GAA Championships. These questions can be summarised as:

Is there a chance that NPHET's suggestion that elite sport be allowed to continue under Level 5 restrictions will be adopted by the government, if and when some or all of the country moves to Level 5?

Does the fact that LOI players are professionals, many of them full-time, mean that the Premier and First Divisions, along with the FAI Cup will be allowed to continue to a conclusion?

Will teams representing Ireland in international competitions be granted a special exemption, and, if so, will that apply to Dundalk's participation in the Europa League group stages?