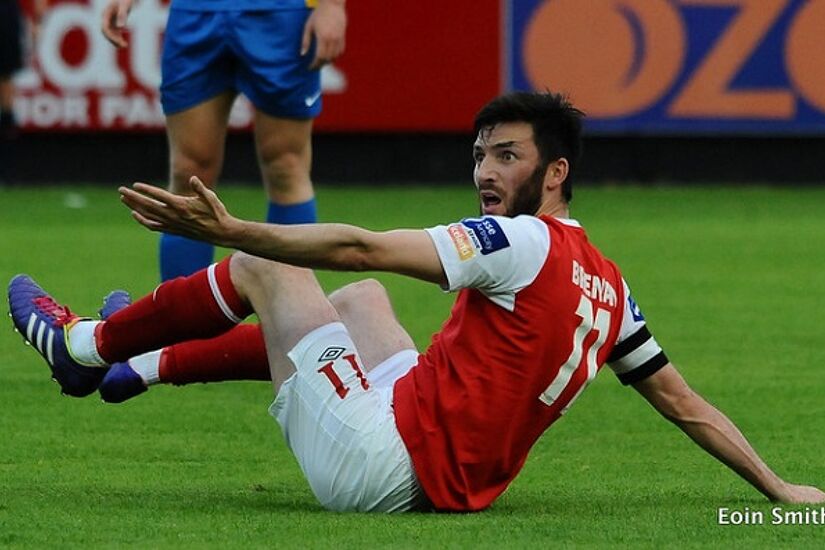 Killian Brennan: I do regret not signing for Drogheda earlier in my career, but circumstances stopped that
Sun, Mar 01 2020




Having won every major domestic cup and league winner's medal, Killian Brennan still believes that he should have joined his local club Drogheda United earlier than he did.

The eldest of four Brennan brothers (the others being Ryan, Gavin and Sean), who've all gone on to play in the League of Ireland, Killian maintains that the age gap negated any serious rivalries within the family home: "I don't remember there being a crazy competitiveness, but I was quite a bit older than the lads - especially Ryan. We did have loads of contention between boys our ages and older, on the streets growing up and playing football."

Predominantly a central midfielder for Drogheda Boys, Home Farm and Peterborough United as a youth, Brennan appeared on the League of Ireland scene with Dublin City in 2003 before Derry City manager Stephen Kenny got some incentive performances out of him on the left-wing and at left-back: "I went to England as a centre-mid, but played in the Irish underage teams at left-back or left-wing all the time. Also, when I made the move back, I played with Dublin City at left-wing. That saying, I did always find myself gravitating inside more. I didn't think about it too much - especially in a team winning and playing well. Nothing was really a chore and I just loved being on the pitch, regardless of position."

While also on Foyleside, Killian won three League of Ireland Cups on the trot and the 2006 FAI Cup, in addition to participating in that year's' famous 2006 UEFA Cup run: "Gothenburg away … That was special, to beat them with such a young team. I got injured a few days later with my knee medial ligament against Longford, missed the home leg and also the games against Gretna. I got myself back fit in four weeks for the games against Paris Saint Germain."

With his star on the rise, the Drogheda native turned down the opportunity to turn out for his hometown club in favour of signing for Bohemians in 2008. As luck would have it, Brennan's debut for the Gypsies saw him score both goals in a 2-1 win at United Park in front of the host's hostile faithful.

"Well obviously the Bohemians fans were delighted with me, but Drogheda supporters, not so happy. When I left Derry that year, I had wanted to go back home, but not necessarily to join Drogheda. I had offers elsewhere, weighed them all up and in the end I chose Bohs, which turned out a great decision due to winning lots of trophies."

The aforementioned successes include the 2008 double, the following year's retention of the Premier Division and 2010's Setanta Cup. However, one final where Killian was most influential coincided with his brace during the 3-1 victory over Waterford United in the 2009 League of Ireland Cup decider.

"I enjoyed winning all the cups and leagues as a team. Anything you contribute by doing something really good always helps the team and the end goal is to win things."

After Bohemians lack of silverware in 2011, Brennan experienced a solitary season with Shamrock Rovers, but then hit the ground running at St Patrick's Athletic by clinching the 2013 Premier Division and picking up a pair of Player of the Year awards: "When I signed for St Pat's, I felt I needed to prove something. Going into a new team under a new manager (Liam Buckley) doesn't always work out, but we had a great understanding. We'd some really good players and a boss that gave me freedom, which really helped that season. We should have achieved a lot more, I felt at St Pat's. A league, FAI Cup and League Cup wasn't good enough for what we had there in the space of three to four years, but that could just be me … I'm never happy."

Another year back at Shamrock Rovers preceded the Louth man finally putting pen to paper for his local club Drogheda, where in 2017 he linked up with brothers Gavin and Sean. Unfortunately, a broken collarbone on debut, followed by a run of other injuries, contributed to only six appearances, a mid-season parting of the ways, Killian returning to Inchicore to see out his career and ultimate relegation for the Drogs.

"I do regret not signing for Drogheda earlier in my career, but circumstances stopped that … Mostly, I was under contract elsewhere. It wasn't a great start, breaking my collarbone, but I felt I had got myself in really good shape going into that year. I would have loved to play more for my hometown club, but managed to only play about a handful of games due to injuries. It was always going to be a fighting battle, when not everyone wanted to push in the right direction to try and do what was best for the club, so I felt I needed to leave Drogheda that June. I went back to St Pat's, to help them keep their heads above water and stay in the Premier Division."