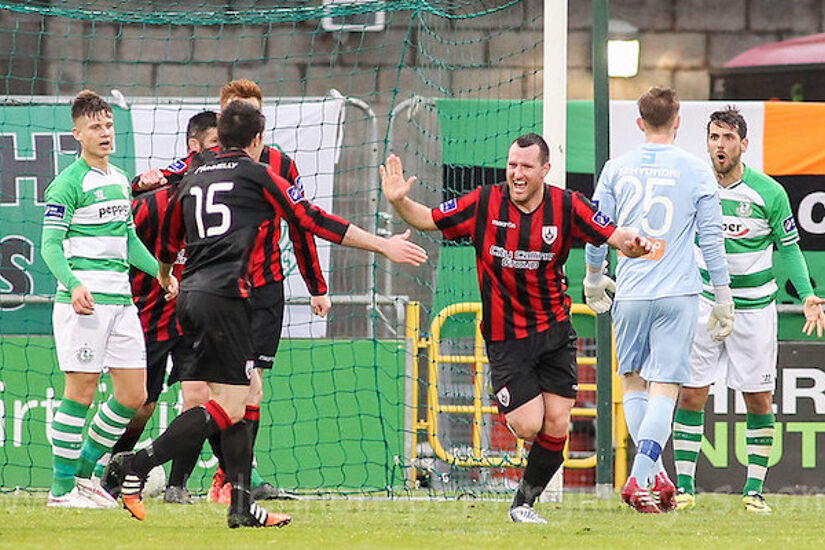 From the Archives - Pay Flynn: Now that I see what Cristiano Ronaldo has done, it's nice for me to say to my kids that I kept him quiet. That tackle is something to own
Sun, Jun 21 2020




A from the archives interview from 2019 with Pat Flynn describing how he got stuck in on the best player in the world, as well as explaining how he bagged himself a cheeky €50 appearance fee.

No stranger to capturing League of Ireland trophies during his playing career, Pat Flynn is also widely recognised as one of the domestic game's characters and someone who doesn't take himself too seriously.

Representing Ireland from U15-U19 level, Pat was fortunate enough to be a member of the Irish U16 squad, who unexpectedly won the European Youth Summer Olympic Festival gold medal in the 2001 tournament held in Murcia.

"It sticks out for me because it was my first dealings with Brian Kerr. It was good to see how he and Noel O'Reilly did things. They were so good how they managed every single one of us. The quality that we had, we probably shouldn't have won the tournament, but beat Spain in the final.

"They played the match at 2pm and it was sweltering. We were melting, but went on to beat them on penos. Brian rallied a few people to be at the airport to greet us, so we felt like superstars upon arriving home!"

As a young player, Flynn spent his formative years in England - initially with Wolverhampton Wanderers and then on the books of Torquay United and Kidderminster Harriers.

"I went over at 16/17 to Wolves and thought it would be the best place for me to go … The quality they had and I thought I might get a chance. I did well in my first couple of years, but towards the end I wasn't good enough to play at that standard. We had Jackie McNamara, a Scottish right-back, in my position.

"Mark Clyde was a Northern Ireland right-back and Denis Irwin, an Irish international. Being released by Wolves was like a kick in the balls, but I half-expected it.

"Torquay, I didn't like. I found the further south you went, the lads weren't as nice. I then went to Kidderminster, who were non-league, but even the standard there was so good in the Conference.

Leaving Wolves, I didn't quit and I've seen other players leave clubs like that and pack in football, even though they're really good. I had a mental toughness early on and it helped me later on with my career in the League of Ireland."

The Irishman returned home in 2006, linking up with Waterford United for two seasons before signing for his beloved Shamrock Rovers. A fruitful four years with the Hoops saw the defender win back-to-back Premier Division titles (2010 and 2011) and a Setanta Sports Cup.

Prior to all that, Pat also lined out opposite Cristiano Ronaldo, putting in a well-documented crunching tackle on the Real Madrid debutant, 17 seconds into a friendly at the Tallaght Stadium.

"I wasn't too proud at the time because that match was given to us. We had to earn the right to play Juventus and Copenhagen (in European comptetitive action in 2010 and 2011), so I was and still am more proud of those games.

"Now that I'm finished and see what Ronaldo has done, it's nice for me to say to my kids that I kept him quiet. That tackle is something to own and some people even have a photo of it.

"If people say to me: 'Who's the best player in the world?' I have to say Ronaldo because I don't want to say that I tackled the second best player."

After Rovers, Flynn joined St Patrick's Athletic in 2012, netting his first senior goal, in a 1-1 draw at the Tallaght Stadium.

"It was unfamiliar for me to cross the halfway line (laughs). I went up there in the last minute against Rovers and took one down on my chest and scored. In my head, I said I'm not going to celebrate, but I was probably looking for the linesman or the ref not to give it because it was so unusual for me to score.

The stadium went so silent. It looked like I didn't celebrate, but when I went into the dressing room, I had a good one."

Even though Pat only remained at Inchicore for a solitary season, he remembers his time there with fondness.

"Me and Aidan Price were on the bench most weeks ... We were always messing on the sideline.

"He dared me to change out of my sub's kit and stand next to Liam Buckley. Liam saw me, turned and said: 'What are you doing?' I said: 'I thought you wanted me to go on.' 'No, I didn't.' 'I'm stripped off now. I'll have to go on … You'll embarrass me.' So he threw me on and all the lads were laughing on the bench and I got my €50 appearance fee, so I was happy enough."

A year at Shelbourne was followed by the Dubliner lining out for Longford Town in 2014. Helping the midlanders to that season's First Division preceded another two in the top tier, including a final League of Ireland appearance, against of all teams, Shamrock Rovers.

"It just so happened to be Rovers for that last game. I never had a proper send-off while I was with them, so it was a nice moment when their supporters threw fireworks onto the pitch as I was being taken off. I had success at Longford and Rovers, but Rovers are my club, so for their fans to pat me off, had me a bit emotional."

Retirement from senior football at the relatively young age of 31, Flynn concludes by explaining his reasons.

"I had problems with my hip and I said to the surgeon: 'How long will it be before I come back?' and he straightforward said to me: 'You won't be back.' I went on for another season, but I couldn't turn as quick as I used to and I think other teams also realised it.

'I maybe could have went on for another couple of seasons, but I felt that I was holding back younger players, who were waiting on the kind of chance that I was at Wolves, hoping that Jackie McNamara would retire."