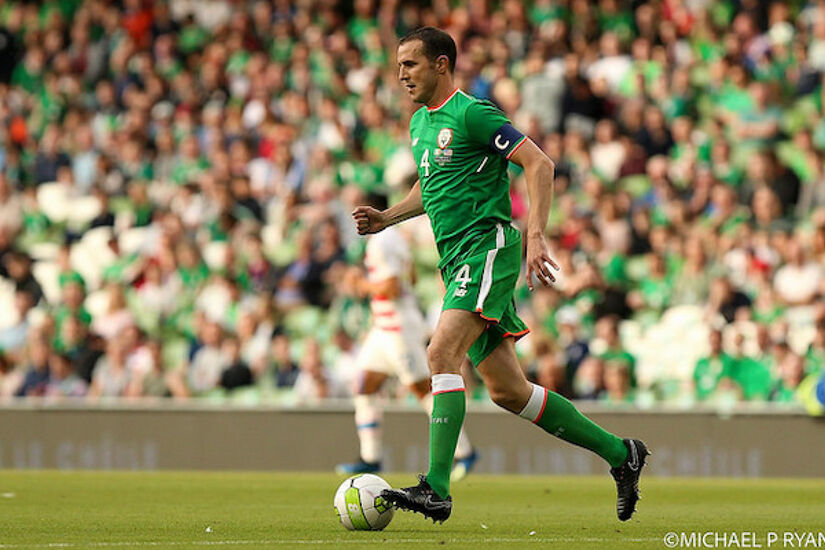 John O'Shea disappointed with Declan Rice switch
Tue, Mar 05 2019




Former Ireland international John O'Shea is the tournament ambassador for the upcoming UEFA under-17 European Championships. The tournament will take place in Ireland from May 3rd to May 19th across a number of venues in Dublin, Longford, Waterford and Wicklow.

O'Shea picked up 118 caps for Ireland and has plenty of international experience at European level lining out in both the European Championships in 2012 and 2016 and was also part of Brian Kerr's under-16 Ireland squad that won the European Championships in Scotland back in 1998.

Country allegiances

Hull City striker Will Keane is currently in the process of switching his allegiances from England to Ireland having represented the Three Lions at underage level from under-16 right up to under-21.

Leeds United striker Patrick Bamford who qualifies for the Boys in Green through his grandmother is said to be keen to meet with Ireland manager Mick McCarthy in the coming weeks with McCarthy also open to meeting the 25-year-old.

Speaking about Will Keane, who O'Shea would have crossed paths with in his later days with Manchester United, the former Ireland captain said "I would have known Will who was playing with England at underage.

"He has had a terrible run with injuries. I think he picked up a bad hamstring injury at Ipswich recently, he was just after getting back in and getting a run of games. That's unfortunate for him."

With 118 caps in total for the Republic of Ireland spanning between 2001 and 2018 and an impressive 256 appearances for Manchester United, O'Shea is certainly not afraid of commitment and believes Ireland should be focussing more on the players that are chomping at the bit to play for Ireland rather than chasing players and waiting for them to make their decision.

"No more chasing, if the players want to come, great, if they don't… That's the key thing, we can ask the question, but ultimately, if the player comes, great, if he doesn't, move on.

Declan Rice





O'Shea's final game for Ireland was the 1-0 win over USA last June - a game that Declan Rice got man of the match in.

"Just from how he (Declan Rice) had spoken and how he had trained and played, that whole thing was disappointing in that aspect for me.

"The way the rules are at the moment though, that option was there for him and he's taken it. We now have to move on from it. We have plenty of players wanting to come and give everything for the team and the squad and the more we get behind them players the sooner the better."

1998 winner

Looking ahead to the under-17 tournament O'Shea noted that he is "delighted to be announced as the tournament ambassador. In 1998, I was lucky enough to play in the tournament and lift the trophy in Scotland with my team-mates. It remains one of the highlights of my career.

"The opportunity to play in an international tournament on home soil is a rare one for any player and I look forward to seeing how Colin O'Brien and his team do this May."





He remembered fondly the tournament from 1998 where he was part of the Ireland squad that went all the way under the watchful eye of Brian Kerr to be crowned winners - beating Italy in the final.

"I have amazing memories from that tournament travelling around listening to Bob Marley with Brian and Noel (O'Reilly)," remembered O'Shea as he reflected on the tournament success.

"It was incredible to experience the thrill of competing against the best teams in Europe and winning. It gave the whole squad a lot of confidence. We got that big result against Spain and the momentum started to build and followed it up with that crazy run and ended up winning the tournament.

"Hosting the tournament at home here in Ireland will bring a touch more pressure but I think it will also be a huge benefit. Having the home fans coming to games as well will be a huge boost.

"The Irish games are being played in Waterford and Tallaght and for each of the games, they'll get amazing support. It's a huge chance for the Irish public to see some of the stars of the future up close and on their doorstep too."

League of Ireland

"I'd keep up to date with the League of Ireland for sure," said the man from Waterford. "There's a couple of young lads that are now back in the league that were at Sunderland when I was there and they are doing very well for themselves in the early weeks of this season.

"James Talbot had a frustrating time over at Sunderland but seems to be really enjoying his football again (with Bohs) which is great. Dan Casey went to Bohs and as a result of his consistency and performances secured a move to Cork City so those are two I would keep an eye on each week, as well as keeping an eye on the league overall.

"I try and get to a Blues game when I'm back home and my son has really enjoyed them anytime he has come along too. The quality continues to improve within the league and that's good to see.

"The Dublin teams seem to be coming back a bit stronger this year which is good to see from a competitiveness point of view. Waterford have shown already that they can get results at this level and hopefully they can have another great season."

Tournament Details

The draw for the finals will take place on April 5thin Dublin when Ireland and the other fifteen participating nations will find out who they will be testing themselves against as they all bid to reach the final which will take place on May 19th.

Tickets for the tournament are on sale now on www.fai.ie with prices starting at €5 with under-16s getting free entry into all games.